Showing art in a time of COVID-19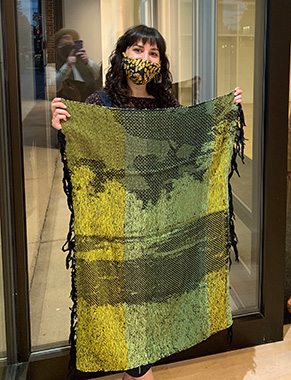 The MU Extension Community Arts Program is partnering with MU School of Visual Studies and Missouri communities to help bring the MU Outreach Program Art On The Move around the state. Art On The Move gives real-life experiences to SVS students and alumni, providing hands-on professional career-building opportunities by returning them to their Missouri hometowns or home regions to share their art with others. Art On The Move students, alumni, and faculty are some of the best and brightest rising stars in the visual arts field and play an instrumental part in recruiting the next generation of SVS students.
MU Extension and MU School of Visual Studies are planning an Art On The Move spinoff-pilot program "Art In Empty Storefronts," showing art in a time of COIVD-19. Art In Empty Storefronts will place visual art pieces, installations, or exhibits created by students or alumni of the School of Visual Media in empty storefronts across Missouri. Our goal with the first pilot is to showcase work from MU students and or alumni in all eight Extension regions. This partnership will allow students and alumni to exhibit their work, connect to their communities, and help showcase storefronts for rent or sale. Designed to reinvigorate commercial corridors that had been hard hit by the economic downturn, research shows placing art in empty storefronts has worked well as a community and economic driver for many places around the Country.
Here are some examples:
The Community Arts Program also sees this opportunity as a great way to fulfill our mission as a three-way partnership between MU Extension, the University of Missouri, and Missouri communities to promote and foster arts-based community and economic development.