Soil Sample Information Form for Lawns and Gardens
Editor's note
This publication is a fillable PDF. Select the "Download this publication" button and save the form to your computer. Then either fill it in using Acrobat Reader and print it to send with your samples, or print it and fill it in by hand.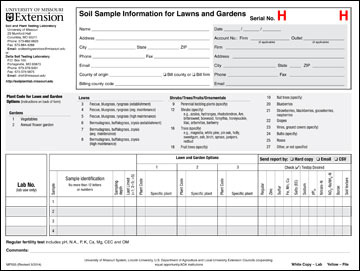 This form is for homeowners and small commercial business owners who need to take and ship samples to the MU Extension Soil and Plant Testing Laboratory. To have your vegetable garden, flower garden or lawn analyzed, fill out this form and send soil samples to the address on the form. If you have a specific crop (for example, blueberries, roses, azaleas, fruit trees or perennials), please provide that information under the "other" section.
Topics
Annual flower garden
Arborvitae
Ash
Average maintenance
Azalea
Barberry
Bermudagrass
Birch
Bittersweet
Blackberries
Blueberries
Bluegrass
Boxwood
Buffalograss
Bulbs
Establishment
Fescue
Forsythia
Fruit tress
Fruits
Gardens
Gooseberries
Grapes
Ground covers
High maintenance
Holly
Honeysuckle
Hydrangea
Junipers
Lawns
Lilac
Magnolia
Nut trees
Ornamentals
Perennial bedding
Pin oak
Plant
Raspberries
Redbud
Rhododendron
Roses
Ryegrass
Shrubs
Spruce
Strawberries
Sweetgum
Trees
Vegetables
Vines
White pine
Zoysia
Pages