Management of Soft Red Winter Wheat
Editor's note
The following abstract describes a publication that is only available as downloadable PDFs by section.
Complete document available in PDFs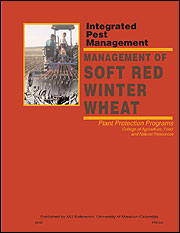 Shawn Conley, Agronomy
Wayne Bailey, Entomology
William Casady, Agricultural Engineering
Fred Fishel, Agronomy
Bill Johnson, Agronomy
Ray Massey, Agricultural Economics
Peter Scharf, Agronomy
Reid Smeda, Agronomy
Laura Sweets, Plant Microbiology and Pathology
Allen Wrather, Plant Microbiology and Pathology
Since 1970, Missouri has ranked consistently among the top five states in production of soft red winter wheat. Management of Soft Red Winter Wheat provides Missouri wheat growers with information needed for timely and accurate decisions in crop and pest management. MU Extension specialists provide research-based recommendations in all aspects of wheat production. The publication provides an introduction to fertility management and key agronomic considerations such as variety selection and planting dates, rates and depth. Densely illustrated sections cover identification and management of weeds, diseases and insects in Missouri wheat production. This publication is part of a series of Integrated Pest Management manuals prepared by the MU Plant Protection Programs.
Topics
Harvesting
Drying
Storage of wheat
Estimating net income from wheat production.
Pages