Stock Healthy, Shop Healthy: Community Toolkit
Editor's note
The following abstract describes a publication that is only available as a downloadable PDF.

This toolkit contains Missouri-specific information. See publication No. DM274 for the non-Missouri version.

These materials are currently under review by Jollyn Tyryfter.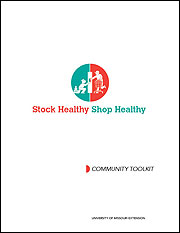 This Stock Healthy, Shop Healthy: Community Toolkit provides community groups with ideas and a plan for increasing both supply and demand. Retailers need to be encouraged to improve the quality and type of healthy foods they stock, and supported in their efforts to do so. The community toolkit includes helpful strategies for forming a community network, partnering with and promoting a store, providing community outreach and education, and building community demand for healthful foods.

The combined ideas in the toolkits constitute a full-scale healthy small food retailer program. Not all communities or stores will be ready or able to implement them all. Community leaders should customize their plans to meet specific, local needs to ensure that the retailer becomes a partner in improving the community's health. To gain a better understanding of what it takes to increase healthy food inventory, check out the Stock Healthy, Shop Healthy: Retailer Toolkit.
To learn more about this program, visit the Stock Healthy, Shop Healthy website.
Topics
Classes
Community
Convenience store
Corner store
Food access
Fresh produce
Healthy corner store
Healthy food
Healthy food access
Healthy retail
Healthy retailer
Marketing materials
Neighborhood
Network
Nutrition education
Partners
Produce
Rural grocery store
Selling healthy food
Signs
Small food retailer
Stakeholders
Youth
Pages