Counties Map
East Central MO
Northeast MO
Northwest MO
Southeast MO
Southwest MO
Urban East MO
Urban West MO
West Central MO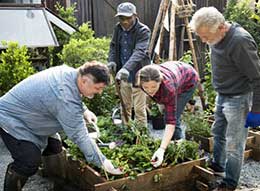 In-depth horticulture training for Missourians who wish to spread their knowledge of gardening.
Master Gardeners
Moberly Area Master Gardeners
The Moberly Area Master Gardener Club meets the second Tuesday of the month at the Randolph County Extension Office. From time to time the club may meet at someone's home or take a field trip. So, if you're interested in attending on of our meetings, please contact Judy Brown, Club President, or call 660-651-5258. Some of our community service projects include planting and maintaining flower beds and other plantings at the Mini-Train in Rothwell Park, various local churches, the Huntsville Horse Show, and other organizations, monthly instructional exhibits and various classes at Little Dixie Regional Library, hosting an Annual Plant Sale, several appearances on the Greenhouse Program on KWIX radio, participation in Downtown Clean-up Day, consultations and providing gardening advice.
2019 Officers
President: Judy Brown
1st Vice President/Program Coordinator: Ellen Miller
2nd Vice President/Extension Representative: Shirley Slusing
Secretary: Gaylene Meyers
Treasurer: Melody Tompson
Use Tab key to loop through the section below. Press Enter or Space to enter content for each tab button. Press Esc key to exit and to go to the next section at any time.