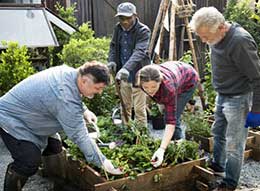 In-depth horticulture training for Missourians who wish to spread their knowledge of gardening.
Master Gardeners
Master Gardeners are trained volunteers with gardening backgrounds ranging from hobbyist to professional, from beginner to experienced, from young adult to senior citizen. The common bond is a love of gardening, learning and sharing. After training, Master Gardeners serve as a resource with University of Missouri Extension to give county residents research-based answers to their gardening questions. The primary purpose of a Master Gardener is to volunteer, but members rate camaraderie and learning opportunities as important reasons for participating.
For more information on becoming a Master Gardener, call the extension center at 417-532-7126.
The Master Gardeners meet at 6:30 p.m. on the second Thursday of the month at the extension center. Master Gardeners complete 30 hours of volunteer work following their initial training, working on core and approved projects in the community.
The core project includes helping to restore the gardens of the Moneymaker House, which is now operated by the Laclede County Historical Society.
Use Tab key to loop through the section below. Press Enter or Space to enter content for each tab button. Press Esc key to exit and to go to the next section at any time.