Welcome
See the resources module below to find events, publications and more!
Follow Jefferson County

Facebook

(opens in new window)
Follow Jefferson 4-H

Facebook

(opens in new window)
MU Extension in Jefferson County is resuming some face-to-face operations, programs and classes.
Beginning June 1, the University of Missouri changed its policy on social distancing and the wearing of face coverings indoors from "required for all" to "recommended based on vaccination status and situation."
Per CDC guidance, fully vaccinated individuals no longer need to wear a mask or socially distance unless they have a weakened immune system. The CDC does continue to recommend these practices for individuals not yet fully vaccinated.
Watch this video that explains why you should test your soil, how to collect the soil and understanding the results.
We bring Mizzou to you.
Through a network of county offices, the University of Missouri solves problems and engages with communities across all 114 counties and the City of St. Louis.
MU faculty, staff and elected council members, who live in your community, work with you to identify local interests and issues and then offer relevant programming and resources to meet the unique needs of you and your community.
Our job is to partner with communities to find solutions with credible, science-based information that will help you: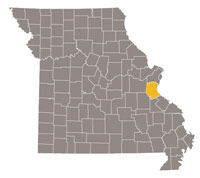 Grow safe and healthy food
Build and grow profitable businesses
Improve your health and relationships
Increase agricultural production
Update professional training in business, health and safety
Engage youth as valued, contributing citizens
Explore the MU Extension website and your county page to discover how MU Extension can enhance your life.
Use Tab key to loop through the section below. Press Enter or Space to enter content for each tab button. Press Esc key to exit and to go to the next section at any time.
Contact us
MU Extension in Jefferson County
301 3rd Street
PO Box 497
Hillsboro, MO 63050
Office hours:
8:30 a.m. to 4:30 p.m., Monday through Friday