Welcome
See the resources module below to find events, publications and more!
Job Openings

MU Extension has several job openings around Missouri as we extend our support network for counties.
View openings near you.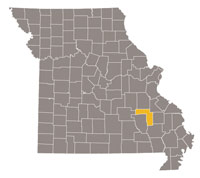 We bring Mizzou to you.
Through a network of county offices, the University of Missouri solves problems and engages with communities across all 114 counties and the City of St. Louis.
MU faculty, staff and elected council members, who live in your community, work with you to identify local interests and issues and then offer relevant programming and resources to meet the unique needs of you and your community.
Our job is to partner with communities to find solutions with credible, science-based information that will help you:
Grow safe and healthy food
Build and grow profitable businesses
Improve your health and relationships
Increase agricultural production
Update professional training in business, health and safety
Engage youth as valued, contributing citizens
Serving Iron County since 1914
In 1914, Iron County established a "Corn Club" at the Ironton High School. This Corn Club was Missouri's first major development for extension. Seven boys joined this club, which was led by B. P. Burnham, Ironton school superintendent. The boys each raised an acre of corn, using the very latest agricultural research to gain improved yields. These Corn Clubs (and the girl's version, Canning Clubs) helped introduce modern methods of growing and preserving farm products. In the 1920s, these Corn and Canning Clubs were renamed 4-H Clubs, emphasizing agricultural and homemaking skills. 4-H has come a long way in the intervening years, with projects ranging from computers and rocketry to veterinary science and robots — and everything in between.
University of Missouri Extension has expanded greatly from its roots in agriculture and homemaking. We still provide vast amounts of research-based information on agriculture, livestock, canning and gardening. But in addition to these topics, extension helps local residents start small businesses, offers parents resources for child development and preparing nutritious meals, supports community development projects and provides information for alternatives to traditional agriculture.
Whether you are looking for resources for yourself or your family, farm, business or community, we invite you to explore the website or contact MU Extension in Iron County to discover how MU Extension can enhance your life.
Use Tab key to loop through the section below. Press Enter or Space to enter content for each tab button. Press Esc key to exit and to go to the next section at any time.
Contact us
MU Extension in Iron County
123 West Wayne Street
Ironton, MO 63650
Office hours:
8 a.m.-noon and 1 p.m.-4 p.m.
Description:
Located in the same building as the Iron County Soil and Water Conservation District