Counties Map
East Central MO
Northeast MO
Northwest MO
Southeast MO
Southwest MO
Urban East MO
Urban West MO
West Central MO
Follow Ask a Missouri Master Gardener

Facebook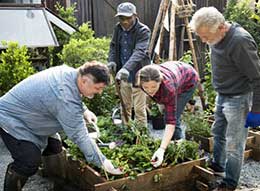 In-depth horticulture training for Missourians who wish to spread their knowledge of gardening.
Master Gardeners
Master Gardeners are adults of all ages who love gardening and who are willing to share their horticulture knowledge with their friends and neighbors. Master Gardeners is a non-profit organization assisted by University of Missouri Extension and Lincoln University. Trained volunteers provide the community with current and approved horticulture practices to enhance their home garden, lawn and landscape. Individuals and group projects include horticulture teaching, service activities and the Master Gardener Hotline.
Who can be a Master Gardener?
You can if you: Have knowledge or experience in gardening or landscape management.
Are willing to learn and provide research-based horticultural information to the public.
Can attend all training sessions.
Service requirements
Master Gardener interns are required to provide at least 30 service hours during their year following graduation in order to become Master Gardeners. As Master Gardeners, they are required to provide at least 20 service hours annually within their community. There are many opportunities for service depending upon the individual's interest and ability. Individuals completing training and service hours are given special recognition. To remain on active status, members of the local Master Gardeners are required to participate in continuous service activities.
Get involved
Master Gardener classes are generally offered each year, either face-to-face or online. If you are interested in the program, contact the University of Missouri Extension Center in your county.
Use Tab key to loop through the section below. Press Enter or Space to enter content for each tab button. Press Esc key to exit and to go to the next section at any time.