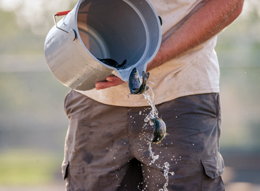 A community-based natural resource education and volunteer service program.
Master Naturalists
Hi Lonesome Chapter
The Hi Lonesome Chapter of the Missouri Master Naturalists is based in Cole Camp, Missouri. Members are primarily from Benton, Pettis, Hickory and Moniteau counties.
Show/Hide

Join the Missouri Master Naturalist™ team

The Missouri Master Naturalist™ program is a community-based natural resource education and volunteer service program for adults sponsored by the Missouri Department of Conservation and University of Missouri Extension. Its mission is to engage Missourians in the stewardship of our state's natural resources through science-based education and volunteer community service. Missouri Master Naturalist volunteers support conservation efforts and natural resource education in their local communities.

Share your love of the outdoors
Foster appreciation of the environment
Restore the landscape's natural beauty
Help survey plants and animals
Enhance your natural science knowledge

Show/Hide

Master Naturalist training

Participants in Master Naturalist training receive natural resource–based training from resource experts on topics including:

Ecological concepts
Forest ecology
Wildlife management
Aquatic ecology
Grasslands and prairie
Birds
Caves and karst
And much more!

Scheduled trainings will appear as events in the resource block below. If no events are showing, check back occasionally.

Show/Hide

Opportunities and resources

Select the "Explore opportunities" button below to search for research volunteer and advanced training opportunities of special interest to you. Check each organization's calendar of events to see what they have to offer.

In addition to these organizations, numerous other links of interest are provided as resources in the block below.

Show/Hide

Contact us

If you need more information about the Hi Lonesome Chapter or Missouri Master Naturalist program, please contact the MU Extension in Benton County office.

President — Missy Zimmerschied

Treasurer — Ryan Stefans

Secretary — Andrea Goldstrom

Treasurer — Marge Lumpe

Time keeper — Roxanne Stockdall

Advanced training — Roxanne Stockdall

Volunteer opportunities chair — Roxanne Stockdall
Use Tab key to loop through the section below. Press Enter or Space to enter content for each tab button. Press Esc key to exit and to go to the next section at any time.