Overview
Time to Fight Food Insecurity!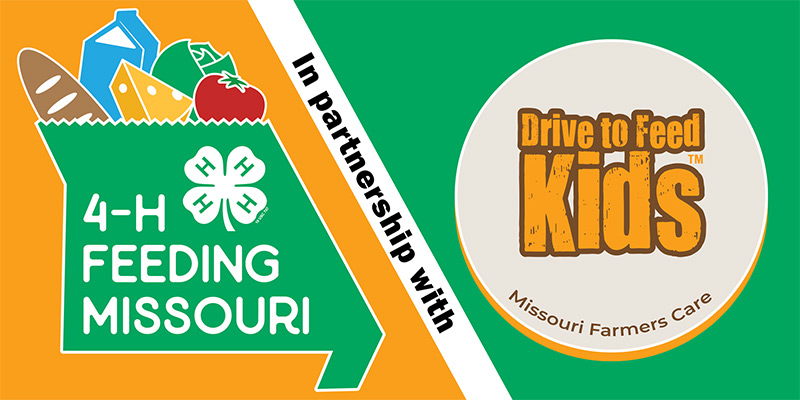 4-H clubs across Missouri have raised more than three quarters of a million meals to feed hungry families over the last three years.
Each year, Missouri counties compete in a friendly competition to raise the most meals for food insecure families right here in Missouri. They do this by having food drives, collecting monetary donations, and volunteering their time in local food pantries. Cass County 4-H was last year's winner, providing 53,104 meals for their neighbors in need!
Our goal for 2022 is to raise
450,000 meals!
It's all about Missourians helping Missourians fight hunger.
Continuing the fight!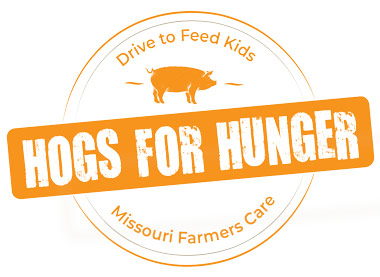 To continue to help fight hunger in Missouri, Missouri Farmers Care Foundation's Drive to Feed Kids invites pig farmers and swine exhibitors to donate pigs this summer through Hogs for Hunger. Pigs can be processed and donated locally, or up to 50 pigs will be accepted for donation at the Missouri State Fair.
For more information about this program, visit MOFarmersCare.com/hogs-for-hunger.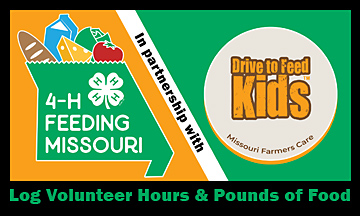 If you have any questions, please don't hesitate to contact Sherry Grace.
Planning Your Club's Drive
You'll find lots of information on this website to help you plan a successful drive. The information is also available in PDF and Word documents that you can download and print. We've also uploaded the 4-H Feeding Missouri event logo for you to use on messaging you develop, too.
Note: Leaders: As you plan activities with your clubs, thank you for being sensitive to the needs and circumstances of all youth members and their families. There are lots of ways for members to contribute to the food drive's success without having to personally donate food. Check out Volunteer ideas under 4-H Feeding Missouri Resources or in the section below.
Show/Hide

Timeline

Show/Hide

October – December

Clubs start planning food drive activities.

Learn about 4-H Feeding Missouri by exploring resources and potential activities found on our website.
Have a lesson on Food Insecurity during club meeting (15 minute overview — see below).

Contact and introduce yourself to food pantry/bank you will contribute to.
Initial promotion and publicity to families and community

Social media – personal and club
Posting "Coming Soon!" flyers in schools and community gathering spots countywide, e.g. city/town halls, schools, places of worship, stores, restaurants and coffee shops, etc.
Church bulletins
Community newsletters

Begin planning volunteer activities, see Volunteer Suggestions
Plan and schedule educational, outreach, presentation, e.g. local Rotary, town council meetings, etc.
Set drive goal (volunteer hours, meals, monetary donations, too) — individual, club
Plan food collection startegies — individual, club

If you're going to have community drop-off points or specific collection events, confirm locations and times.

Show/Hide

January – April

Donate button (for monetary donations) goes live on January 1.
Survey for reporting volunteer hours and pounds of food donated goes live January 1.
Promote your plan!
Do a social media campaign; use pictures of your club in action to promote and use the hashtag #4HFeedingMo
Do another lesson or two on food insecurity at a club meeting.
Food collection, individual/club
Volunteer efforts, individual/club
Timely reporting, individual online/club — as soon as you volunteer or donate, report it via the survey.
By 11:59 p.m. on April 30:

All food and volunteer hours must be entered into the Qualtrics survey.
Any online monetary donations must be completed.
Any monies collected must be deposited and club check made out to "Feeding Missouri" and postmarked to:

Feeding Missouri
Attn: Chris
2306 Bluff Creek Drive
Columbia, MO 65201

Late entries will be accepted but will not count toward county totals.

Show/Hide

May

Total revealed
Debrief locally
Celebrate locally
Show/Hide
How to Run a Successful Drive
Show/Hide

Learn about hunger issues in Missouri

Use these ideas to have 15-minute mini-lessons in a club meeting:

Hunger Awareness Activites - Round 2




Our partner, Feeding Missouri, has tons of resources:

Show/Hide

Contact your local food pantry and/or regional food bank

Check out the Food Pantry List in 4-H Feeding Missouri Resources
Search the Feeding Missouri service map and Pantry Finder listings (www.feedingmissouri.org > About Us)
Contact them by mid-January to start coordinating!

Show/Hide

Publicize and promote the drive - info available in 4-H Feeding Missouri Resources

Flyers — distribute/post in December
January through April

Social media
Flyers
Media outreach
Involve other local partners

Show/Hide

Plan one or more food drives in your community

Schools
Basketball games
Churces, houses of worship
Local library, bank, community center
Tell people what foods are OK to donate - see 4-H Feeding Missouri Resources

Show/Hide

Plan volunteer activities

See the full list below

Show/Hide

Using Qualtrics (link provided January 1), accurately count and record pounds of food collected and hours volunteered!

It's the honors system: weigh on your bathroom scale; use package measurements; give your best estimate; see if local food pantry has a scale
Qualtrics opens January 1; all individual entries count toward your COUNTY total.

Show/Hide

Tell people how they can donate money, if they prefer

Monetary donations should be made online via the DONATE NOW button
DONATE NOW will be available Jan. 1 via the 4-H Feeding Missouri, MU Extension and Feeding Missouri websites.
Donors can choose their county from the dropdown menu so the donation is credited to the appropriate county.
If someone donates cash:

Bring it to the club leader
S/He will keep a running tally
At the end of the drive, the club treasurer will send a check covering the amount of any cash donations to:
Feeding Missouri
ATTN: 4-H Feeding Missouri
2306 Bluff Creek Drive
Columbia, MO 65201
That amount will be credited to the county total.

NOTE: Feeding Missouri will calculate and convert all pounds of food and hours volunteered into the equivalent meals.
Show/Hide
Contest Details
Feeding Missouri's numbers will be used to calculate county contest winners.
Counties can compete in four areas. One prize will be awarded to the Overall winning county.
Food Raiser
Fund Raiser
Volunteer Hours
Overall (Equivalent) Meals
Show/Hide
Volunteer Ideas
If donating food isn't your thing, no worries!
There are lots of ways to contribute to the 4-H Feeding Missouri food drive. Check out the ideas below. Or come up with your own! It's all about us Missourians helping Missourians fight hunger. You can also help your county compete to be the club that volunteers the most hours. Volunteer hours are then converted into the equivalent number of meals toward our goal.
We realize that there are many restrictions due to COVID and each part of our state is affected differently. Please follow CDC guidelines and do what is appropriate in YOUR community. Many foodbanks are not accepting volunteers at this time, please call before showing up.
Show/Hide

How can I volunteer?

Organize a food drive at your school, church, etc.
Create publicity materials on your own, including:

posters
flyers
banners
short videos
podcasts
photos documenting your food-drive related activities

Post/share all that great messaging:

online, social media
post fliers in public places around town, like bulletin boards at local stores, schools, churches, etc.

Create your own friendly competition:

Hold a collection contest between grades at your school
Challenge basketball fans to be the team that brings the most

Create a display or information booth at school, library, city hall, church, etc.

Look at the Hunger Facts Resources
You can even find information about your county

Present/share about hunger facts at local community events, e.g. school, Rotary meeting, church, local government events
Write an essay about hunger in Missouri and present it in class
Set up a tour of your local food bank:
Ask your local food pantry how you can help:

Note: Be sure to coordinate well in advance! Many local food pantries have limited hours.
Show/Hide
Matching Mini Grants
Through a partnership and a generous donation from Missouri Farmers Care, Missouri 4-H offers a 4-H Feeding Missouri/Drive to Feed Kids matching grant. Proposals will be accepted from January 1 to March 31, for projects/events occurring between January 1 and April 30.
Guidelines
In order to be considered for a match grant, proposals must:
Be submitted no later than March 31 by an organized 4-H entity, such as a county 4-H council, 4-H club, county 4-H foundation or county MU Extension council acting on behalf of the 4-H group. County 4-H partnership proposals are acceptable.
Involve 4-H members and adult volunteers and actively engage them in "learning by doing" through service-learning.
Projects and events must be youth-driven and related to the 4-H Feeding Missouri/Drive to Feed Kids Campaign.
Demonstrate receipt of matching funds or in-kind contributions. Grant monies must have at least 100% matching funds. For example, $100 grant request must show $100 in matching funds or in-kind contributions such as labor, materials, supplies, or donation.
Project/Event must occur between January 1 and April 30.
Include a plan to share your work with others (i.e., newspaper, social media, etc.). Describe how your group will recognize 4-H, MU Extension and Missouri Farmers Care.
Budget
This grant is a match grant. This means your group is to provide the initial contribution totaling the amount you are requesting (no more than $250). Your initial contribution can include funds collected from fundraisers, cash donations, food donations, in-kind (volunteer hours), costs to host event related to project, etc. Match funds can also be used to further your 4-H Feeding Missouri donation by donating to a local food pantry or bank; or used to offset expenses group occurred from hosting fundraising events/efforts.
Deliverables
A final report must be submitted by May 31. Items included in the final report will be:
Number of youth and adult volunteers working on the project and the total number of hours worked
Expenses, gifts-in-kind, community donations
Include photos, news clippings and other materials with the report.
Final reports will be emailed to [email protected] , or mailed to Maria Calvert, 1110 S. College Ave. Columbia MO, 65211
Resources
Show/Hide
4-H: Empowering Youth to End Hunger in Their Communities Toolkit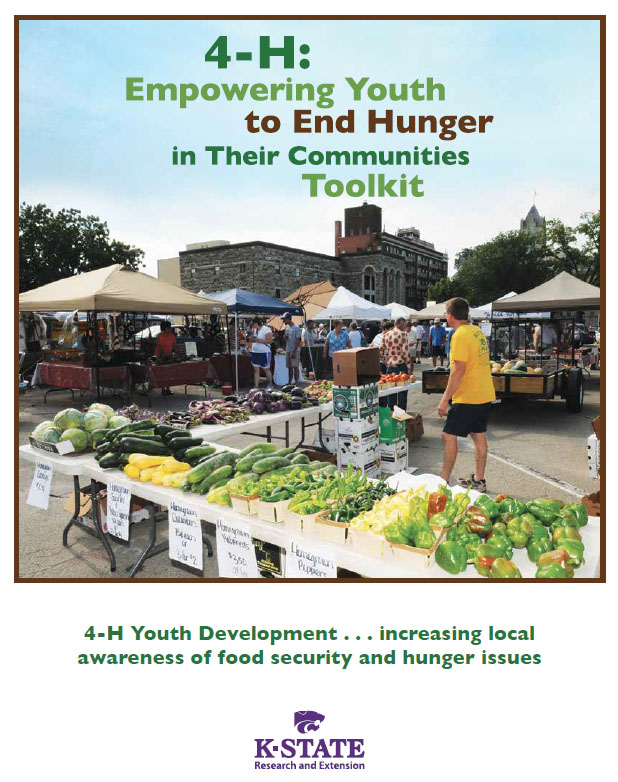 This toolkit was created by Kansas State University and provides ideas and resources for learning about and teaching hunger awareness and hunger advocacy.
Show/Hide
Resources
Feeding Missouri Website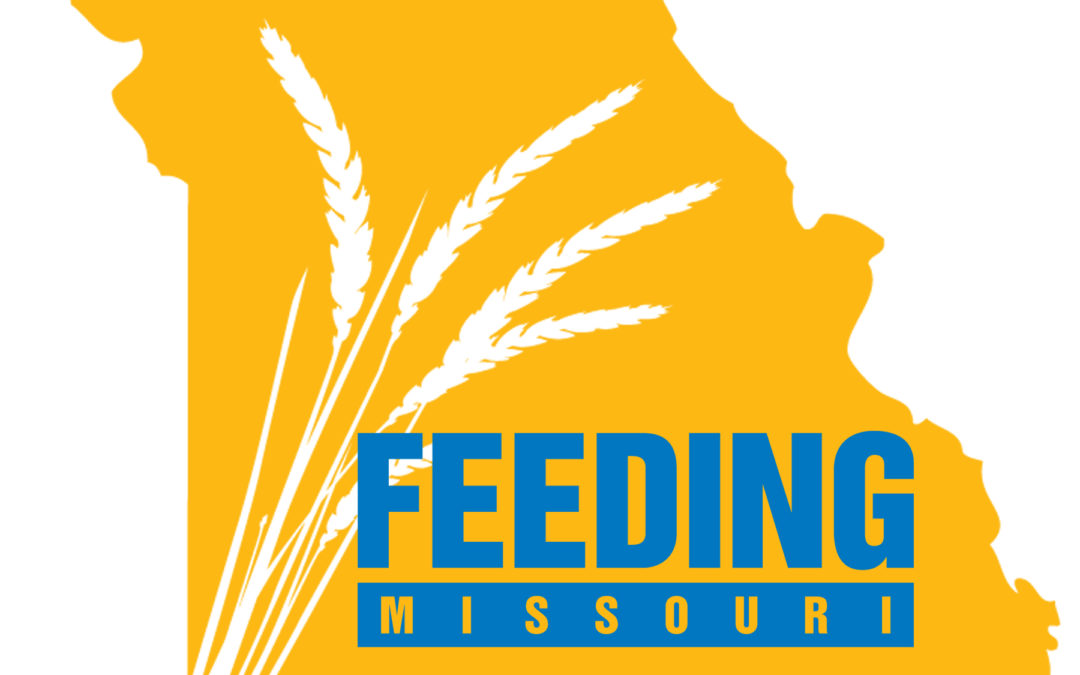 Our partner has a ton of information about hunger in Missouri and in the United States. To access their resources: