Flowering and Fruit Characteristics of Black Walnuts: A Tool for Identifying and Selecting Cultivars
Compare the nuts of walnut cultivars side by side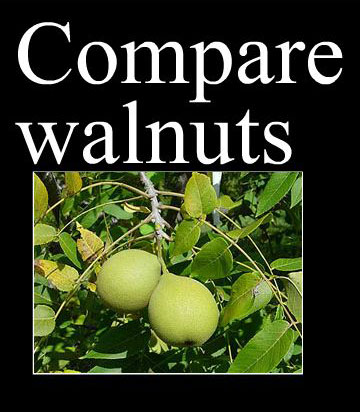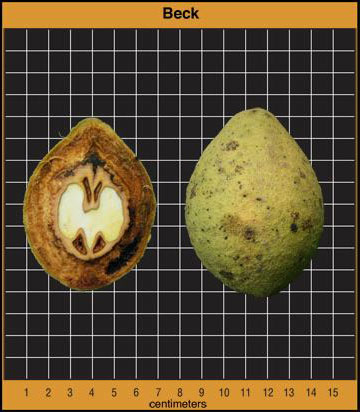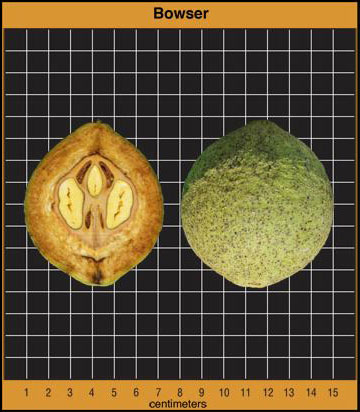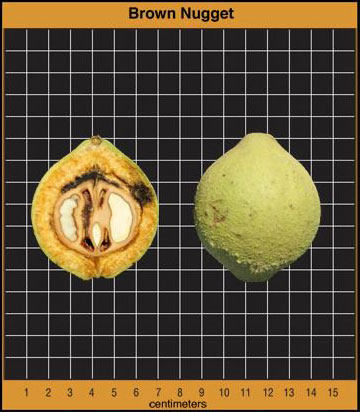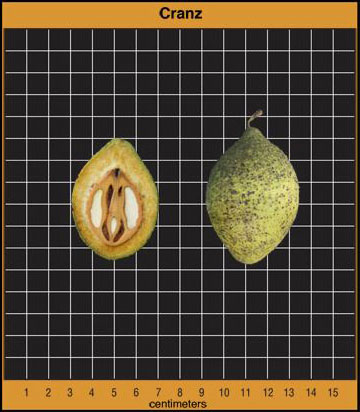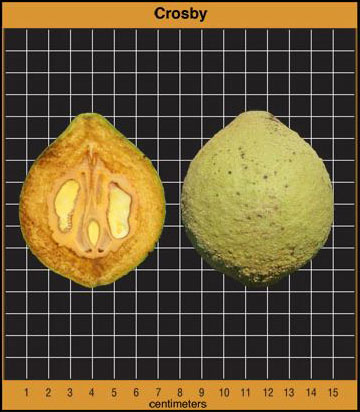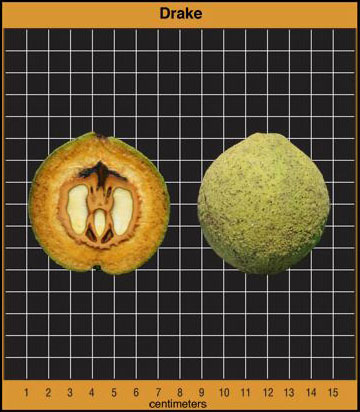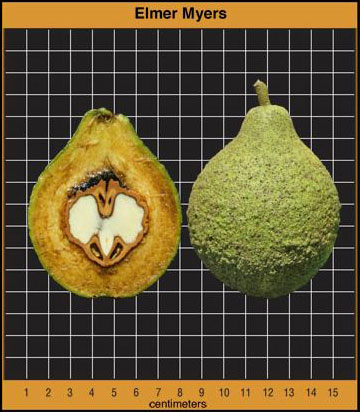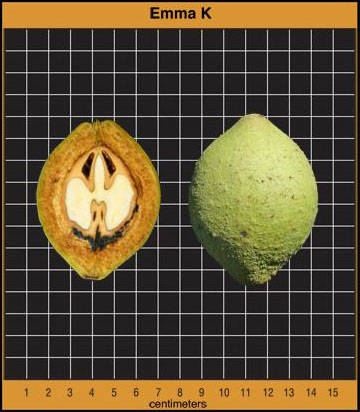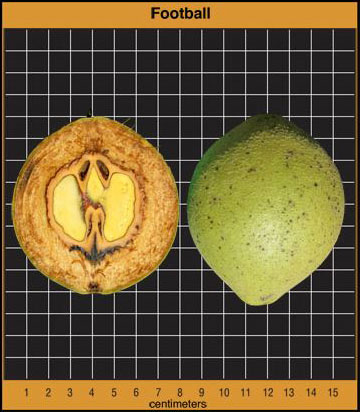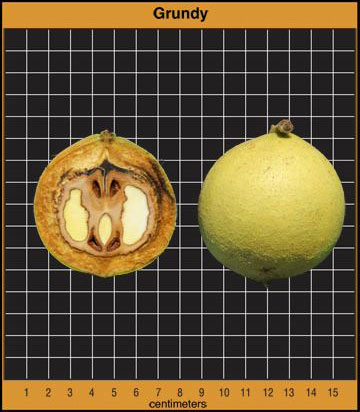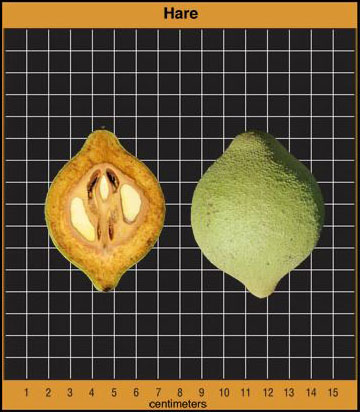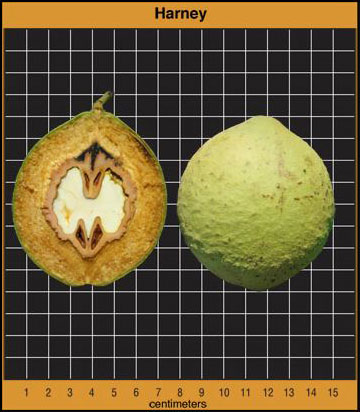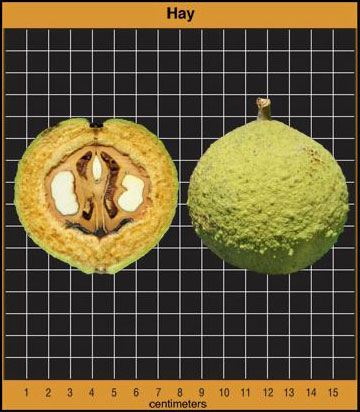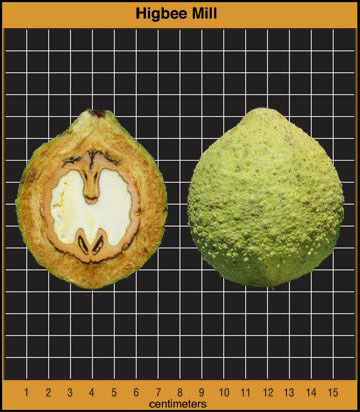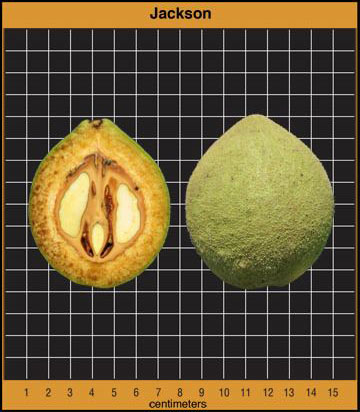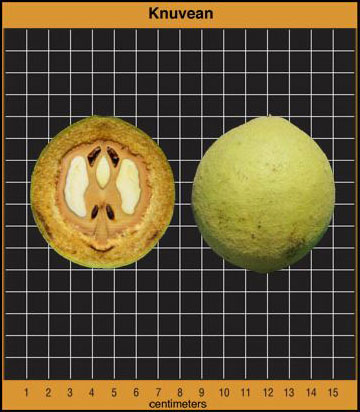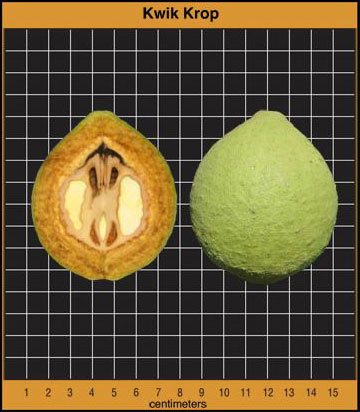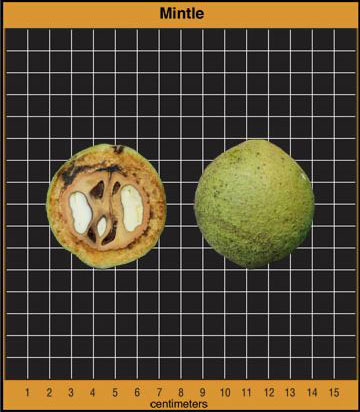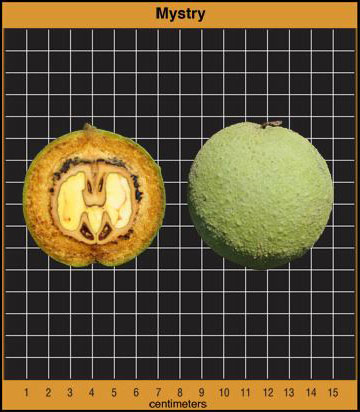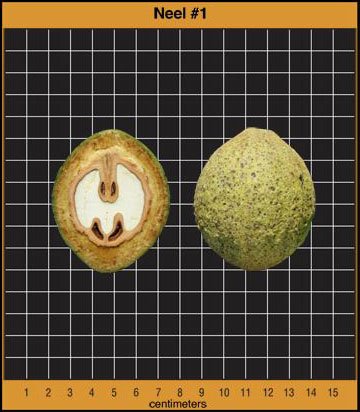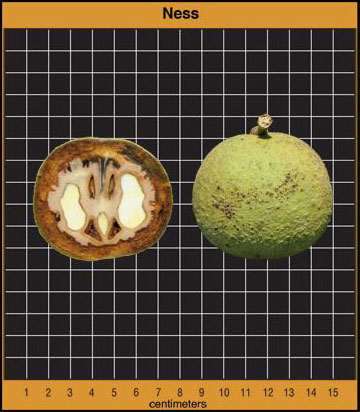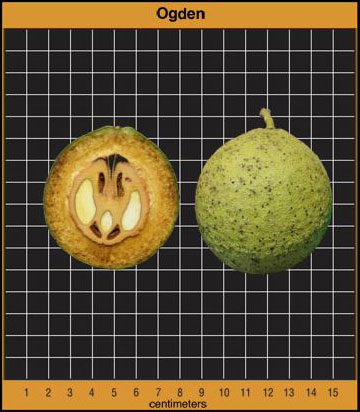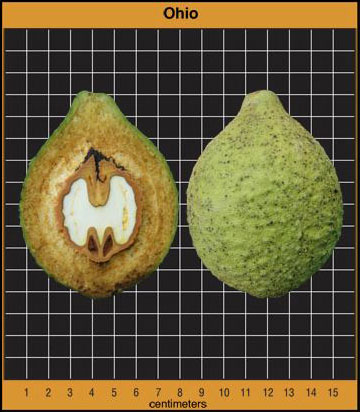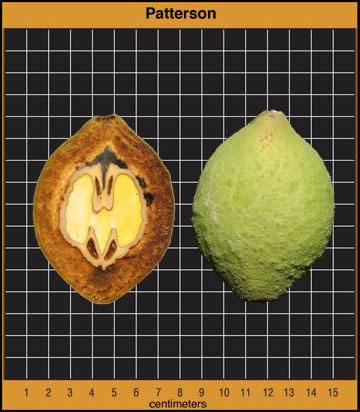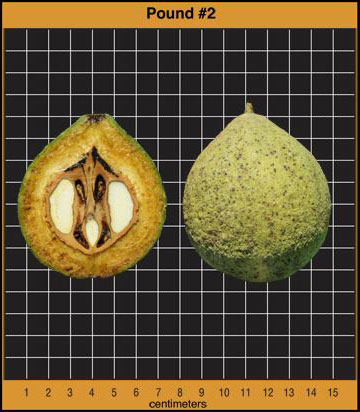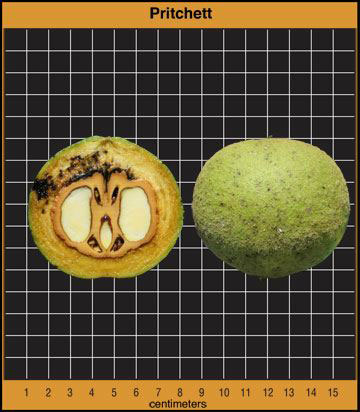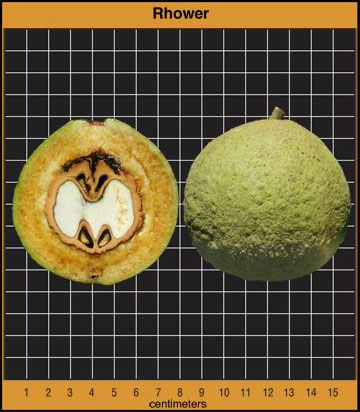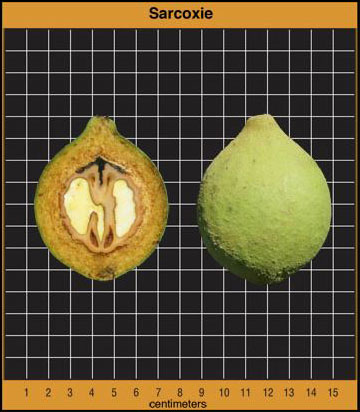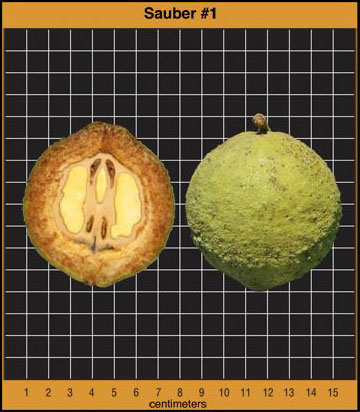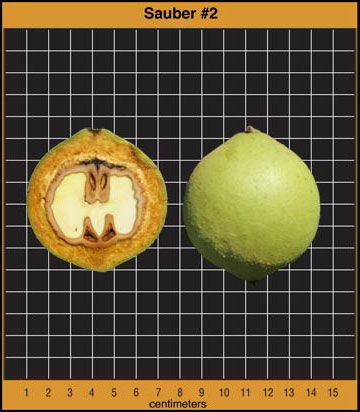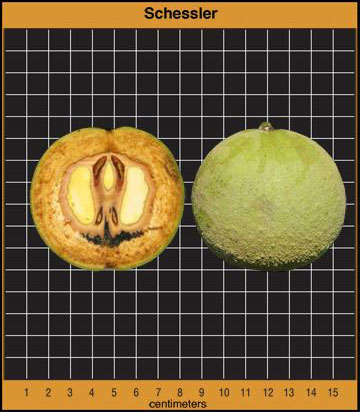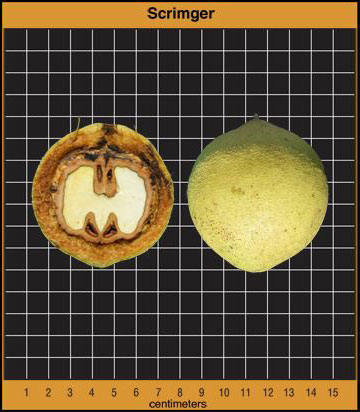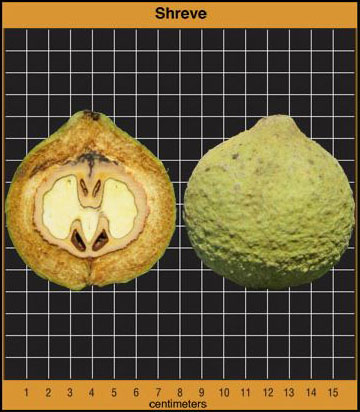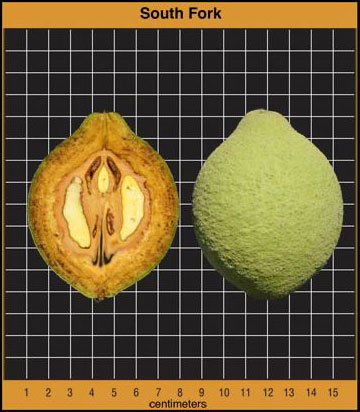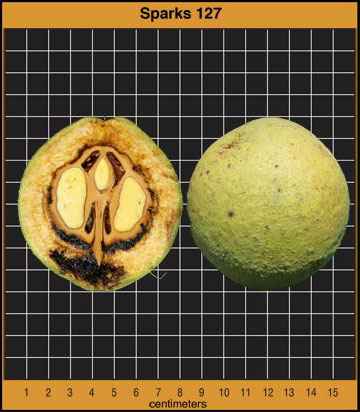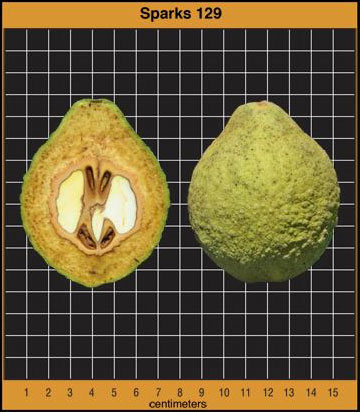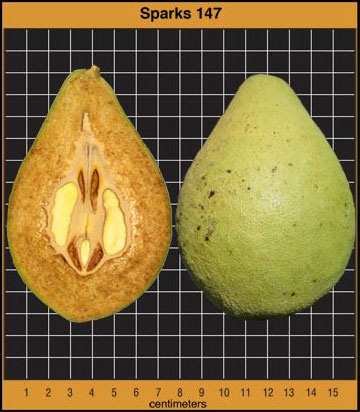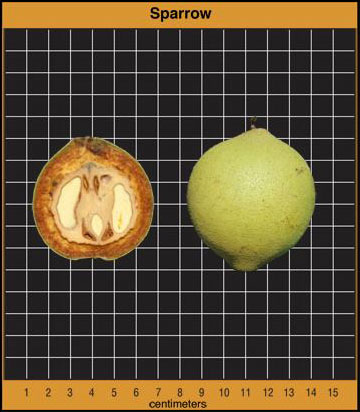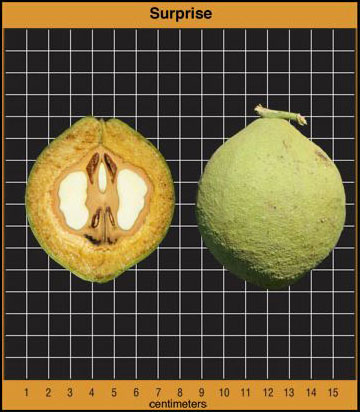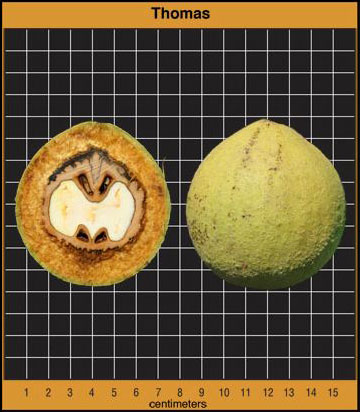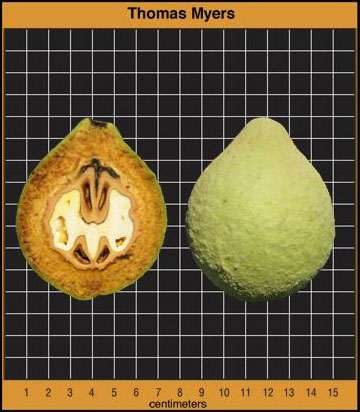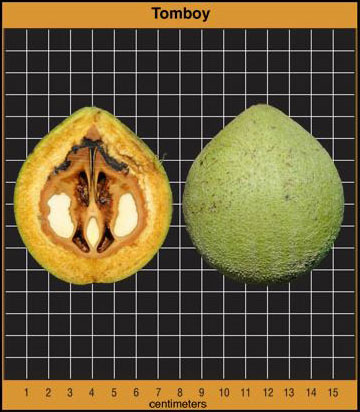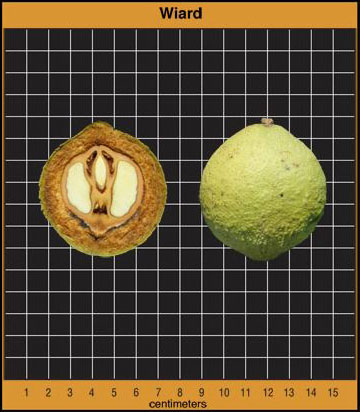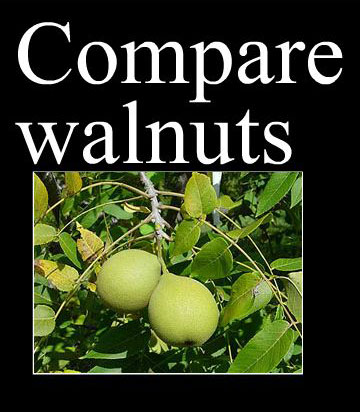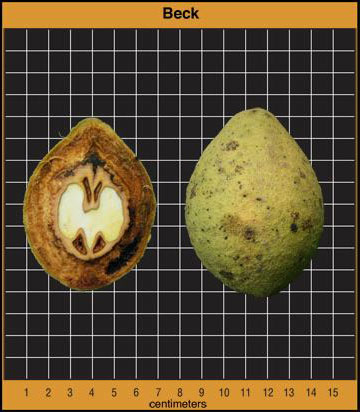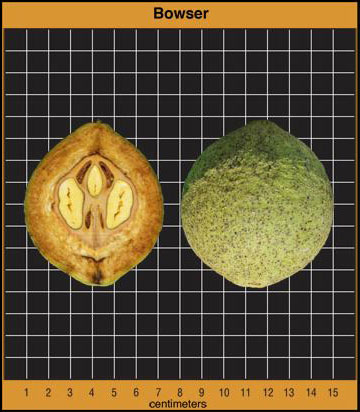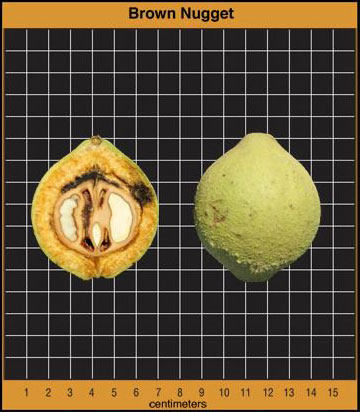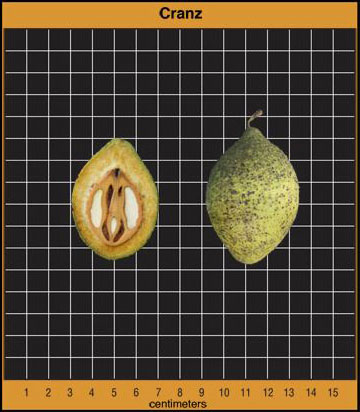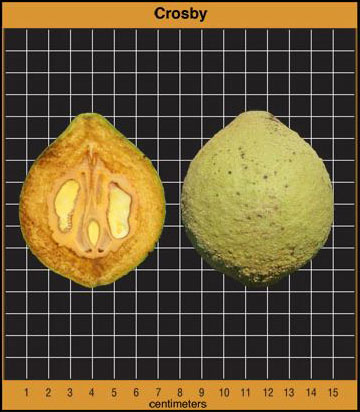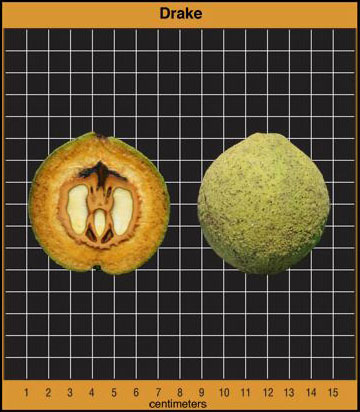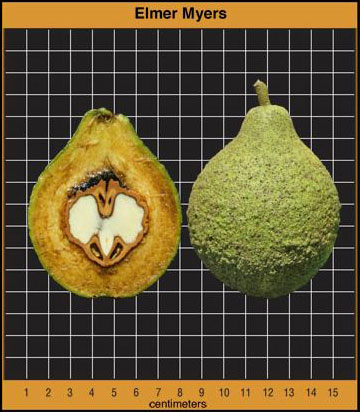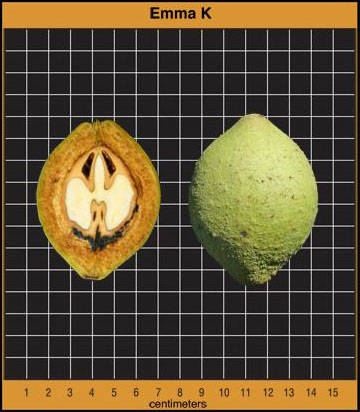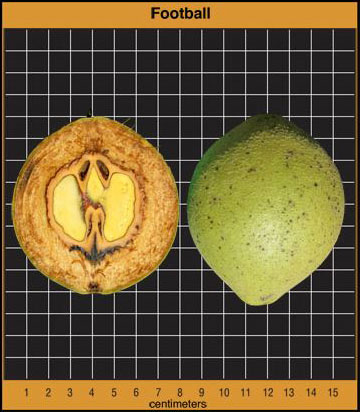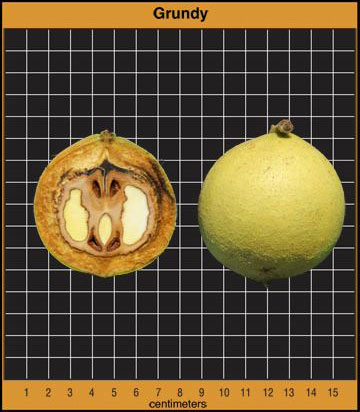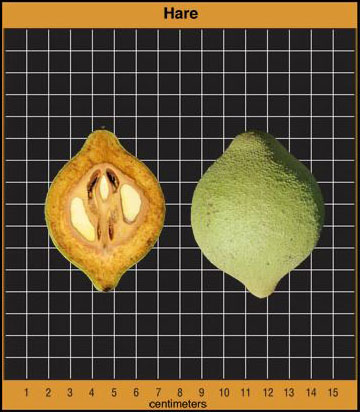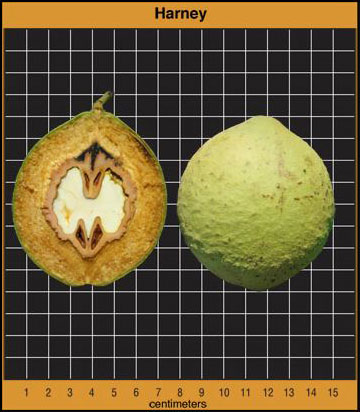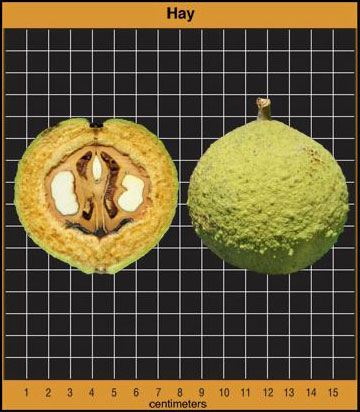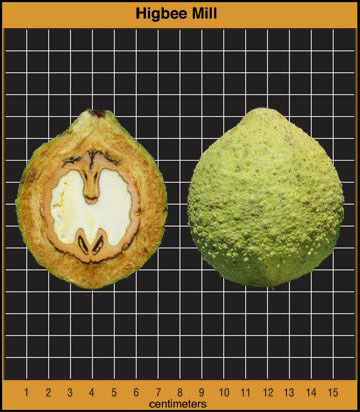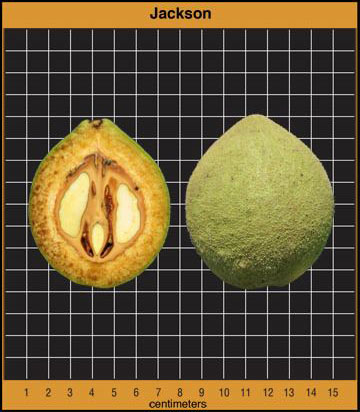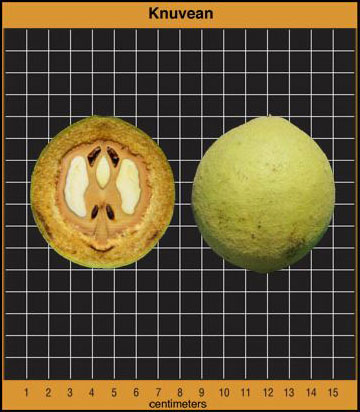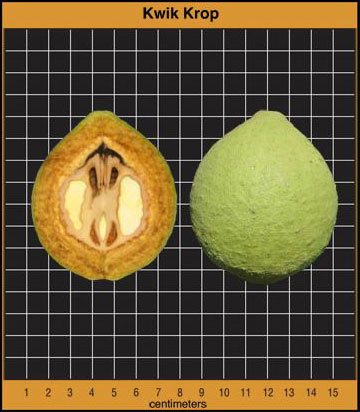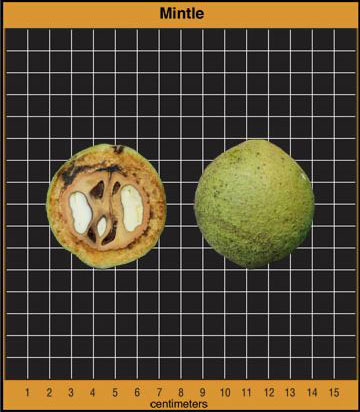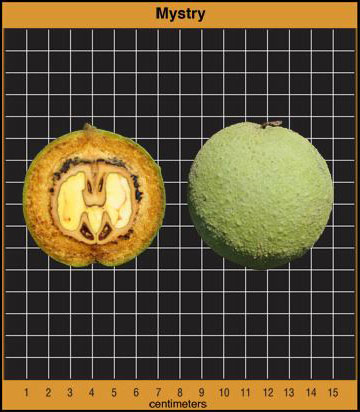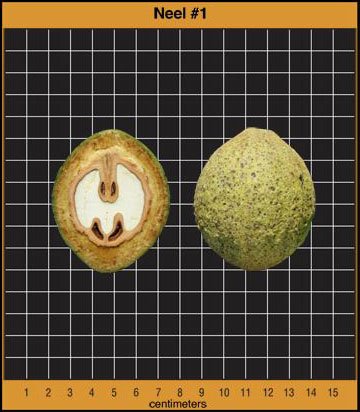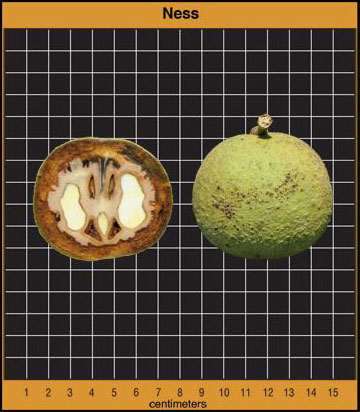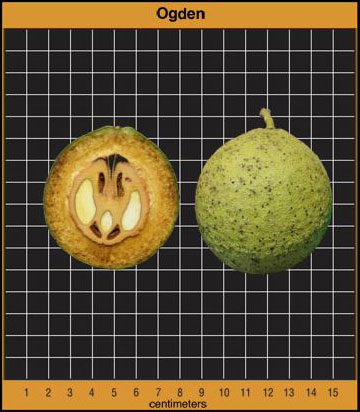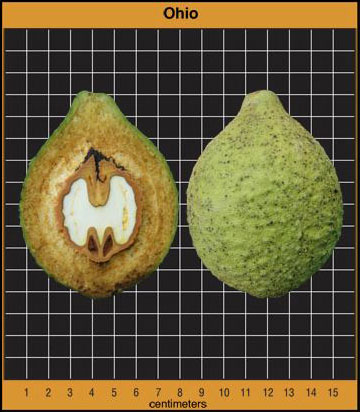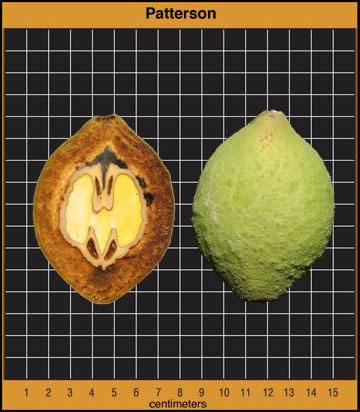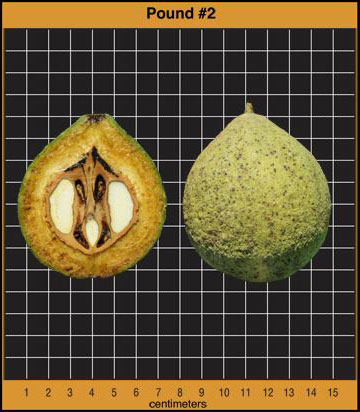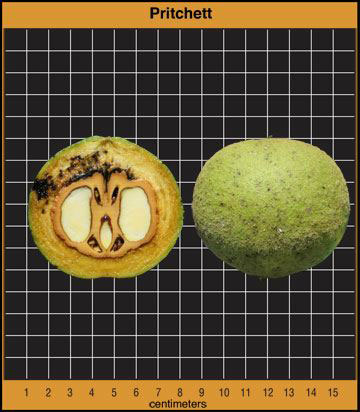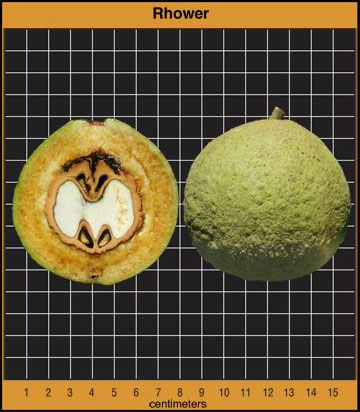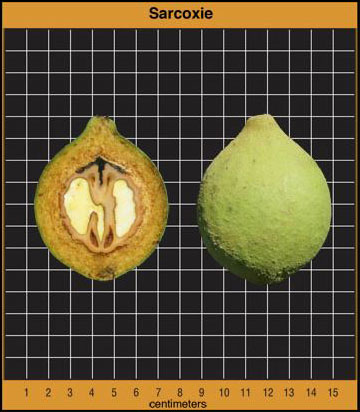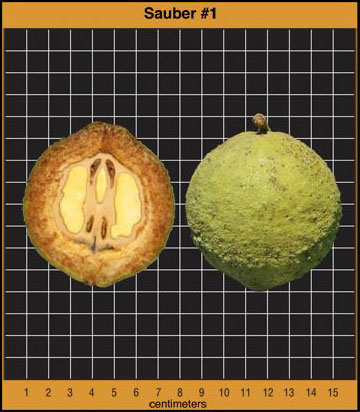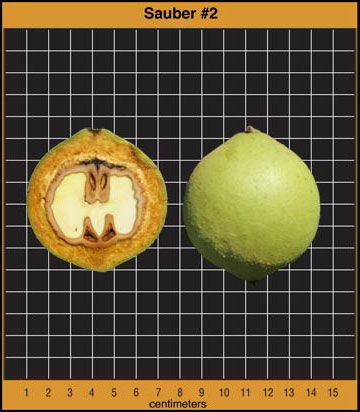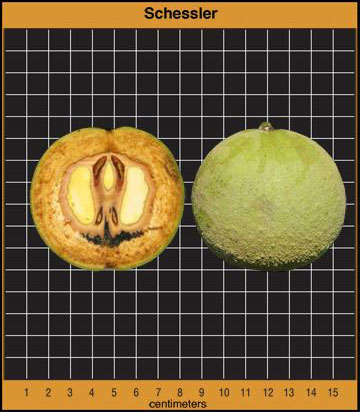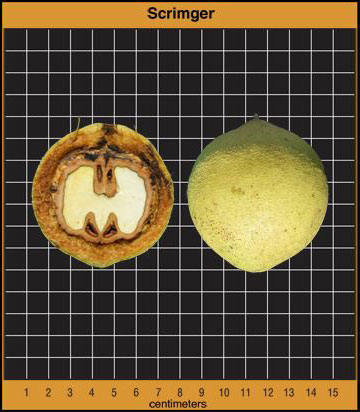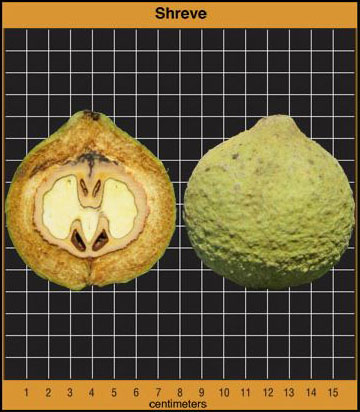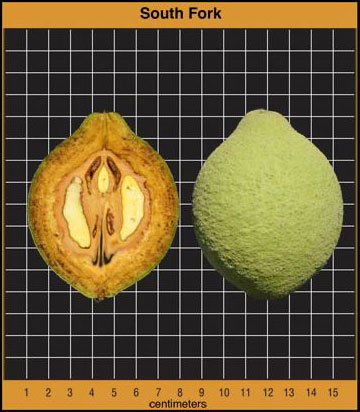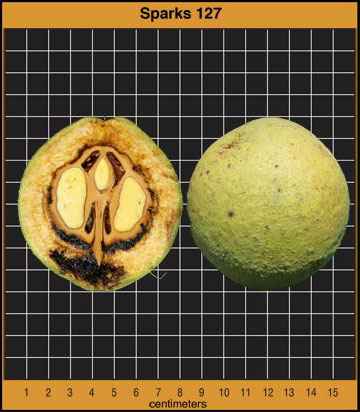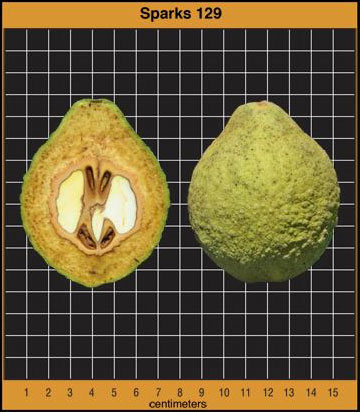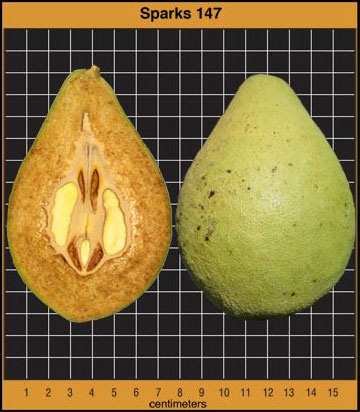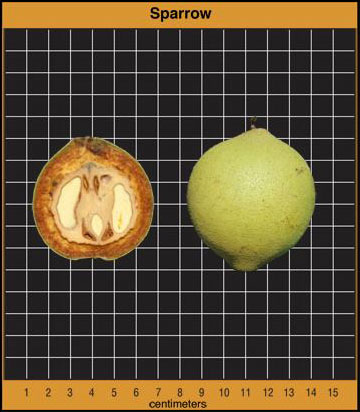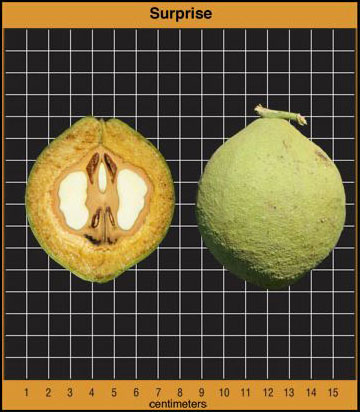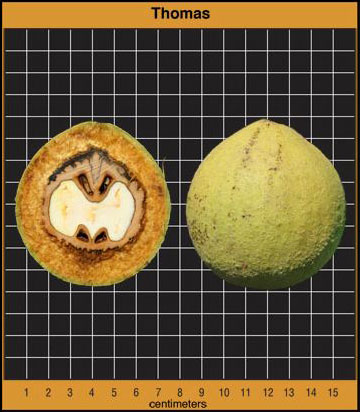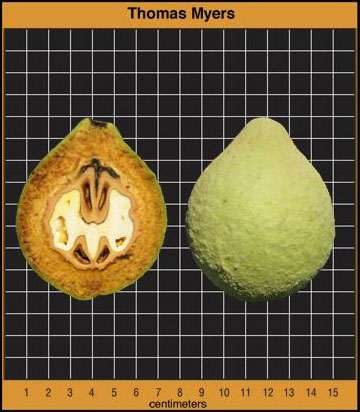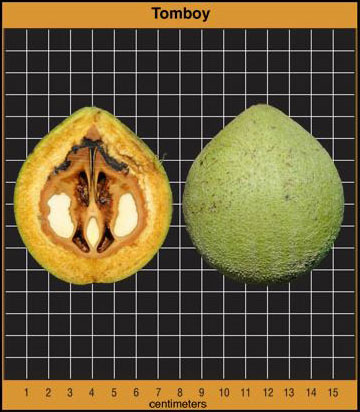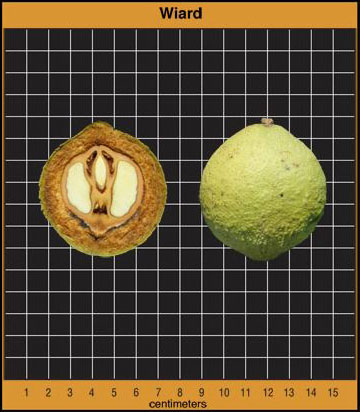 Growth characteristics of selected black walnut cultivars
Cultivar name
(Fingerprint alias)
Budbreak
Average first pistillate bloom date
Mean pistillate bloom date
First pollen shed date
Flower type
Season length
Harvest date
Beck
April 28
May 15
May 21
May 16
Protogynous
128 days
Sept. 25
Bowser
April 29
May 9
May 14
May 19
Protogynous
128 days
Sept. 17
Brown Nugget
April 16
April 27
May 1
May 10
Protogynous
131 days
Sept. 8
Cranz
April 29
May 19
May 21
May 11
Protandrous
130 days
Sept. 27
Crosby
2 May 2
May 10
May 19
May 20
Protogynous
142 days
Oct. 3
Davidson*
April 12
April 23
April 28
May 9
Protogynous
132 days
Sept. 4
Drake
April 28
May 6
May 13
May 15
Protogynous
151 days
Oct. 9
Elmer Myers
May 1
May 10
May 17
May 23
Protogynous
128 days
Sept. 18
Emma K
April 20
April 23
April 30
May 6
Protogynous
148 days
Sept. 23
Football
April 15
April 27
May 1
May 6
Protogynous
156 days
Sept. 30
Grundy
April 20
May 10
May 12
April 28
Protogynous
122 days
Sept. 13
Hare
April 29
May 7
May 16
May 20
Protogynous
143 days
Sept. 30
Harney
April 27
May 8
May 15
May 16
Protogynous
133 days
Sept. 26
Hay
May 5
May 14
May 22
May 24
Protogynous
135 days
Oct. 3
Higbee Mill
May 4
May 17
May 27
May 25
Protogynous
131 days
Oct. 2
Jackson
April 16
April 27
May 2
May 9
Protogynous
155 days
Sept. 28
Knuvean
April 18
May 11
May 17
April 29
Protandrous
136 days
Oct. 1
Kwik Krop
April 26
May 5
May 9
May 18
Protogynous
148 days
Oct. 3
Mintle
April 17
May 14
May 19
May 1
Protandrous
129 days
Sept. 23
Mystry
April 16
April 29
May 4
May 11
Protogynous
141 days
Sept. 19
Neel #1
May 3
May 12
May 21
May 21
Protogynous
141 days
Oct. 5
Ness
April 16
April 27
April 30
May 10
Protogynous
168 days
Oct. 12
Ogden
April 23
May 6
May 10
May 13
Protogynous
168 days
Oct. 18
Ohio
April 24
May 7
May 8
May 15
Protogynous
140 days
Sept. 18
Patterson
(Emma K)
April 16
April 25
April 30
May 6
Protogynous
153 days
Sept. 28
Pound #2
April 24
May 8
May 17
May 20
Protogynous
143 days
Oct. 1
Pritchett
April 18
April 28
May 6
May 12
Protogynous
134 days
Sept. 14
Rhower
(Thomas)
April 28
May 7
May 13
May 20
Protogynous
145 days
Oct. 2
Sarcoxie
(Kwik Krop)
April 25
May 4
May 9
May 15
Protogynous
141 days
Sept. 25
Sauber #1
April 26
May 6
May 14
May 18
Protogynous
134 days
Sept. 20
Sauber #2
(Sparrow)
May 8
May 14
May 17
Protogynous
118 days
Sept. 5
Schessler
April 13
April 22
April 29
May 6
Protogynous
129 days
Sept. 4
Scrimger
(Sparrow)
April 27
May 10
May 14
May 15
Protogynous
117 days
Sept. 5
Shreve
May 2
May 8
May 17
May 17
Protogynous
147 days
Oct. 4
South Fork
April 14
May 9
May 6
April 28
Protandrous
158 days
Oct. 8
Sparks 127
April 25
May 7
May 12
May 16
Protogynous
118 days
Sept. 4
Sparks 129
April 23
April 27
May 6
May 15
Protogynous
125 days
Sept. 28
Sparks 147
May 3
May 11
May 15
May 18
Protogynous
131 days
Sept. 21
Sparrow
April 26
May 11
May 13
May 16
Protogynous
119 days
Sept. 6
Surprise
April 25
May 6
May 10
May 15
Protogynous
143 days
Sept. 30
Thomas
May 2
May 6
May 15
May 21
Protogynous
145 days
Oct. 2
Thomas Myers
May 5
May 11
May 21
May 21
Protogynous
131 days
Sept. 26
Tomboy
April 18
April 27
May 1
May 9
Protogynous
135 days
Sept. 10
Wiard
April 28
May 14
May 24
May 9
Protandrous
125 days
Sept. 21
*Davidson cultivar is not pictured.
Characteristics definitions
Fingerprint alias
Some cultivars with different names are genetically identical as determined by DNA fingerprinting. Where this occurs among the cultivars listed in the table, "cultivar name" is the name thought to have been assigned first; "fingerprint alias," later.
Budbreak
The average date of budbreak is the time when the tips of leaves are visible from swollen buds. Female or pistillate flowers develop at the tips of the new growth, while male or staminate flowers are produced on catkins on one-year-old growth.
Pistillate bloom dates
Pistillate bloom occurs over a period of several days. Thus, date of first pistillate bloom is important in selecting cultivars that will avoid injury due to late-season frosts. The mean (average) pistillate bloom date is when female flowers are most likely to be receptive to pollen.
First pollen shed
Mean dates of pollen shed are important because these dates must coincide with pistillate bloom and receptivity for effective cross-pollination and subsequent fertilization to occur.
Flower type
Black walnut cultivars exhibit two flowering habits. Protogynous cultivars are those that produce pistillate flowers before the staminate flowers. Protandrous cultivars produce staminate flowers on catkins before the pistillate flowers are visible.
Season length
Season length is the number of days from the mean pistillate bloom date to the date of harvest.
Harvest date
Average date of harvest is the date by which nuts are suitable for harvest.