Growing Black Walnut for Nut Production
Editor's note
The following abstract describes a publication that is only available as a downloadable PDF.
Eastern black walnut trees (Juglans nigra) produce high-value, hardwood products and distinctively flavored, edible nuts. The potential for producing two valuable products from the same tree has captured the imagination of tree planters for years.
The question is not whether a walnut tree can grow both wood and nuts, but rather which crop you wish to maximize. While black walnut trees can be grown for timber and/or nut production, the focus of this guide is toward planting, managing and harvesting top-quality black walnut nuts for sales at the retail or wholesale level from an orchard practice, similar to pecan and other nut trees.
The guide is a collaborative effort of the nut tree research cluster at the Center for Agroforestry and the nut research program of Kansas State University. It is the only one of its kind printed in the U.S. and represents a decade of research on growing black walnut trees in an orchard practice for nut production.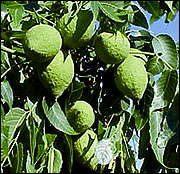 The black walnut orchard has widely spaced trees that develop a full canopy. Black walnut spurs are 8 to 10 inches long and bear nuts on the branch terminal.

Topics
Setting orchard goals
Cultivar recommendations
Nut-bearing habit
Methods of orchard design
Methods of establishing black walnut trees
Care of non-bearing trees
Insect control
Harvesting
Marketing
Pages