Snacks participant handout
Editor's note
You can download the PDF or order printed copies of this publication.
See the companion publication N1001, Healthy Snacks Poster.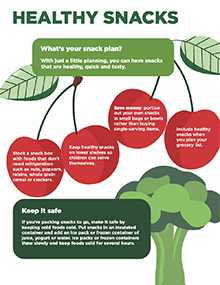 Sarah Wood
Assistant Extension Professor, Department of Health Sciences
Tammy Roberts
Nutrition and Health Extension Specialist
This handout explains how to snack with healthy foods and save money in the process.
Topics
Food safety
5-minute snacks
10-minute snacks
15-minute snacks
SNAP
Pages