Eating on a Budget Handout
Editor's note
You can download the PDF or order printed copies of this publication.
See the companion publication N1028, Eating on a Budget Poster.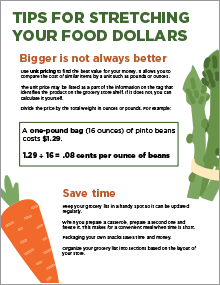 Sarah Wood
Assistant Extension Professor, Department of Health Sciences
Tammy Roberts
Nutrition and Health Extension Specialist
This handout provides tips on stretching your food dollars. It discusses unit pricing, how to get the most out of the food you buy, and other ways to save money on your food budget.
Topics
Packaging snacks
Rotating foods
Shopping lists
Unit pricing
Using all edible parts
SNAP
Pages