Drink For Your Health handout
Editor's note
You can read this publication on this page, download the PDF, or order printed copies.
See the companion publication N1024, Drink to Your Health Poster.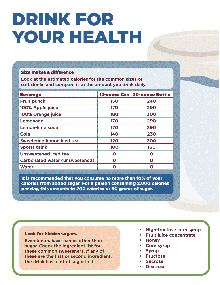 This handout highlights key messages of the dietary guidelines, including drinking more water and avoiding sugar in beverages.
Topics
Nutrition
Health
Beverages
Energy drinks
Soda pop
Soft drinks
Sports drinks
SNAP
Pages
The printed version is a two-page 8.5-by-11 inch handout.