Solutions for Better Living | Cooking Third Edition
Editors note
This item is available for download or University of Missouri Extension internal orders only.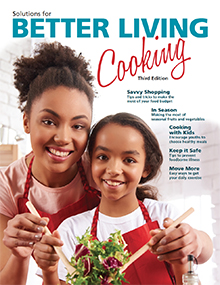 Healthy cooking and eating is important to everyone's health and wellbeing. This magazine covers various health and nutrition topics with an emphasis on healthy cooking. Topics include food safety, savvy shopping and cooking with kids. This magazine offers fun, colorful and easy-to-read stories, tips and tricks on stretching your food budget, selecting and preparing in-season fruits and vegetables, how to avoid foodborne illnesses and much more.
Topics
Health
Nutrition
Cooking
Food safety
Food preparation
Healthy meals
Physical activity
Pages