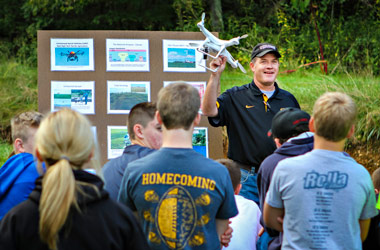 Research
The Hugo Wurdack Research Center conducts demonstrations and research in integrated livestock, forages, forestry and wildlife management practices that are economically viable, environmentally sound and sociologically acceptable for the Ozark Region of Missouri.
Wurdack is operated using Best Management Practices and provides educational information on a wide range of agricultural, natural resource and scientific topics to area beef and forage producers, soil and water district members, students from elementary and secondary schools, and other interested groups. Farm activities emphasize management practices that promote sustainable agricultural production while protecting the natural environment and the quality of life for citizens of Missouri's Ozark region.
Education
Each year, Wurdack Research Center hosts a Agriculture Education Day. Several schools are invited out to the center for a day of learning from several MU research specialists and other area experts. Presentations often involve forestry, livestock production, crop management, wildlife and environmental impact. This year's event will be held on Oct. 6, 2022.
We also have a Producers Field Day scheduled on Friday, October 7th, 2022.