Damage prevention
Providing educational assistance on how to prevent and deal with potential conflicts.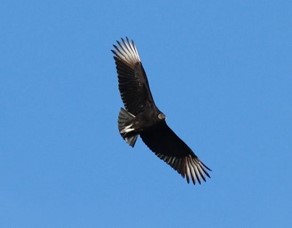 The MU Black Vulture Project is designed to improve our understanding of vulture ecology, the dynamics of vulture conflicts, and to provide educational assistance for livestock producers and clientele with information on how to prevent and control problems and deal with potential conflicts should they occur. The Project is conducted in partnership and collaboration with the Missouri Department of Agriculture and USDA APHIS-Wildlife Services here in Missouri.
The primary objective of the Project is to provide educational resources and assistance on preventing and mitigating damage caused by nuisance black vultures.
Refer to the side-bar links for detailed information describing techniques to prevent and control damage caused by black vultures and for resources provided by USDA APHIS-Wildlife Services, Missouri Department of Agriculture, Missouri Farm Bureau and the Missouri Department of Conservation.
Contact information for assistance