State 4-H Teen Conference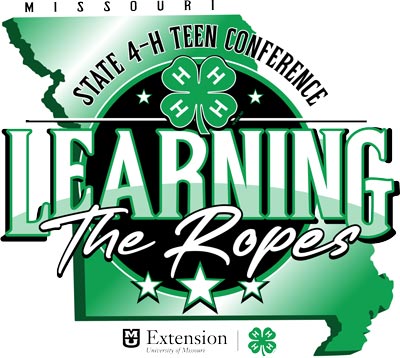 Teen Conference 2022: Learning the Ropes
May 31–June 1, 2022
University of Missouri
Description
Teen Conference is a fun-filled, two-day event for ages 11-13, planned by your State 4-H Council. This event is focused on:
exploring sparks related to projects in STEM, Healthy Living, Civic Engagement and Leadership,
creating opportunities to make many new friends from across Missouri,
growing leadership skills through quality learning experiences,
connecting youth with positive older teen role models, the State 4-H Council, and
finding out about exciting future opportunities that await 4-H teenagers.
Important dates
March 1–April 15, 2022: Registration open, via 4-H Online
No registrations will be accepted after April 15, 2022.
For more information regarding Teen Conference, please contact your county 4-H office or Joyce Taylor, State 4-H Council Coordinator.
Agenda
Tuesday, May 31, 2022

Time
Activity
Location
12:30 p.m.
Delegate Registration
Chaperone Registration
Move into rooms
MU Campus
1:00-1:45 p.m.
Get Acquainted
Chaperone Meeting
2:00-2:45 p.m.
Assembly
Conservation Hall
3:00-3:30 p.m.
Session 1: Planting the Future
3:35-4:05 p.m.
Session 2: Science of Sound
4:10-4:40 p.m.
Session 3: Learning the Moves
4:45-5:15 p.m.
Session 4: Leading the Herd
5:30-6:45 p.m.
Dinner
Plaza 900
7:00-8:30 p.m.
Dance and County Pictures
Board Games
Rec Center
8:30-8:45 p.m.
Sundown Activity
Rec Center
9:30 p.m.
Lights Out!

Wednesday, June 1, 2022

7:30 a.m.
Breakfast
8:45-9:15 a.m.
Spirit Competition
Conservation Hall
9:15-9:30 a.m.
"Stretch Break"
Outside if weather permits or lobby area just outside of the Auditorium
9:30-10:00 a.m.
Special Speaker
10:00-10:15 a.m.
Evaluation/wrap up/adjourn