State 4-H Teen Conference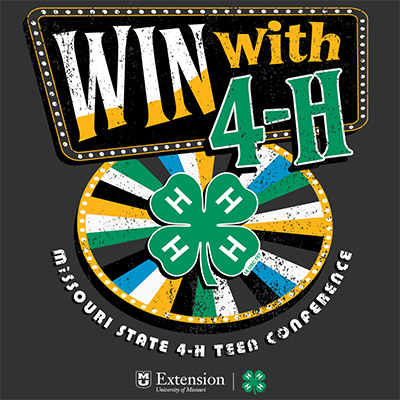 Teen Conference 2023: Win with 4-H!
May 30-31, 2023
University of Missouri
Description
Teen Conference is a fun-filled, two-day event for ages 11-13, planned by your Missouri 4-H Ambassadors. Teen Conference will be limited to 200 participants. This event is focused on:
exploring sparks related to projects in STEM, Healthy Living, Civic Engagement and Leadership,
creating opportunities to make many new friends from across Missouri,
growing leadership skills through quality learning experiences,
connecting youth with positive older teen role models, the Missouri 4-H Ambassadors, and
finding out about exciting future opportunities that await 4-H teenagers.
Important dates
March 1–April 15, 2023: Registration open, via 4-H Online
No registrations will be accepted after April 15, 2023.
For more information regarding Teen Conference, please contact your county 4-H office or [email protected].
Agenda
Tuesday, May 30, 2023

Time
Activity
11:00 a.m.
Delegate Registration
Chaperone Registration
Move into rooms
12:00-12:45 p.m.
Welcome Lunch
Chaperone Meeting
1:00-1:45 p.m.
Opening Assembly
2:00-4:10 p.m.
Workshops!
4:10-4:30 p.m.
Break
4:30-5:30 p.m.
Dodgeball
5:30-7:30 p.m.
Dinner & Games
7:30-8:00 p.m.
Break
8:00-10:00 p.m.
Dance
County Pictures
Board Games
10:00-10:15 p.m.
Sundown Activity
10:45 p.m.
Lights Out!

Wednesday, May 31, 2023

8:00-9:00 a.m.
Breakfast
9:00-9:30 a.m.
Group Photo
9:30-10:30 a.m.
Regional Meeting
10:30-11:30 a.m.
Closing Assembly
11:30 a.m.
Have a safe trip home!
Workshops
During registration, youth will select one of the workshops below:

Duct Tape Wallet Challenge
Leadership with Dr. Spain

All youth will also participate in workshops led by the Missouri 4-H Ambassadors!