Overview
4-H Zoo Apprentice Camp (Ages 14+)
4-H Junior Zoo Apprentice (Ages 11–13)
Registration deadline: December 1, 2023
Arrive: Fly or Drive. Everyone should plan to arrive at Busch Gardens in Tampa by 11 a.m. on Wednesday, Dec. 27.
Depart: Fly or Drive home, but don't plan to leave Busch Gardens until after 2 p.m. on Sunday, Dec. 31.
The world's largest zoological organization, Busch Gardens, partners with Missouri 4-H to offer 4-H Youth an opportunity to discover, learn, laugh and experience one-of-a-kind adventures with animals from around the world. This event is for 4-H members ages 14–18.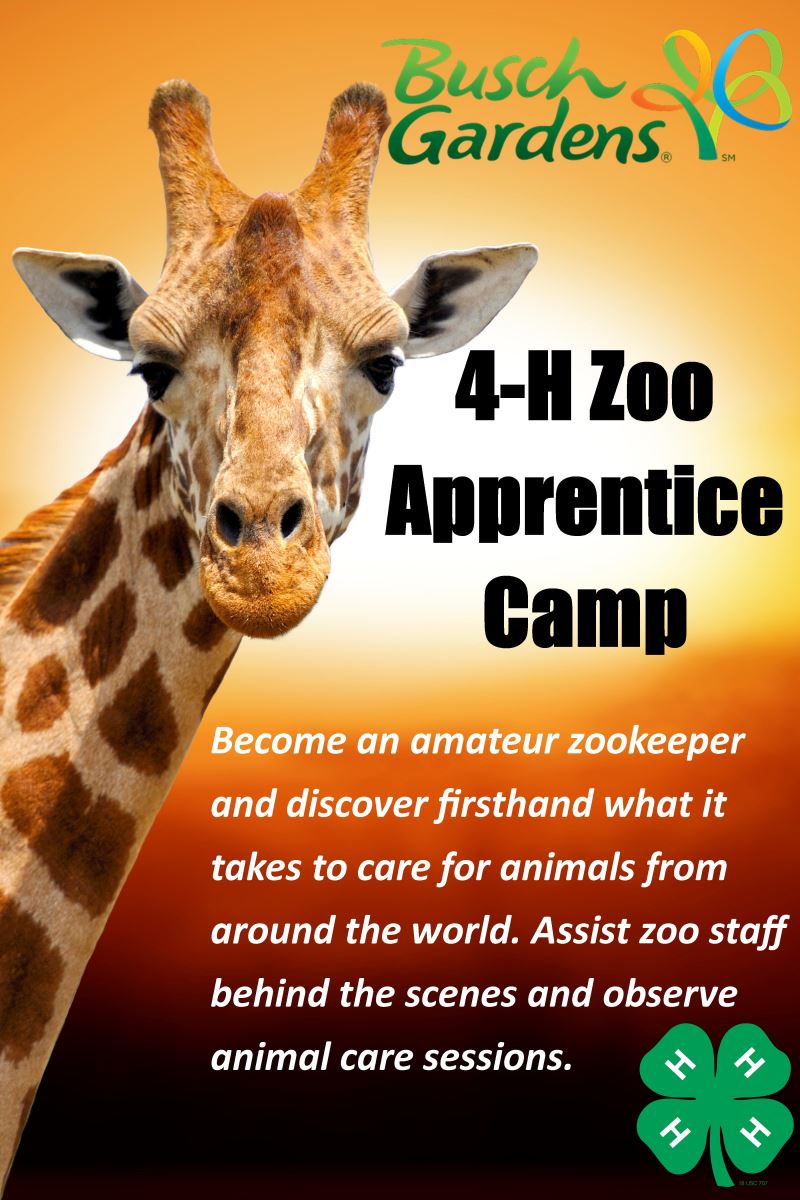 Learn-by-doing has long been a 4-H motto. Now 4-Her's will experience this in Busch Gardens' 335-acre African-themed living classroom by attending the 4-H Zoo Apprentice Camp for youth ages 14+ or by attending 4-H Junior Zoo Apprentice Camp for youth ages 11-13.
Youth in attendance will become amateur zookeepers and discover firsthand what it takes to care for animals from around the world. Assist zoo staff behind the scenes and observe animal care sessions.
Youth in attendance will be living inside Busch Gardens. They will investigate the mysteries of the animal kingdom, getting up-close to animals they have never seen before. And in between life changing moments, participants will enjoy World Class Entertainment in our nation's fourth most popular amusement park.
In addition, all participants will make lifetime memories spend time working with the animal care specialists at Sea World, touring Sea World Rescue, and sleeping overnight beside our new aquatic friends.
You will return with a keen understanding of animal behavior, science, and nutrition. You will be a better communicator with your own animals and four-footed family members.
The $875 registration fee includes:
Airport pick-up and transportation on Saturday to Busch Gardens
All lodging
24/7 Staff Escorts including Zoo Staff, Education Staff, Youth Professionals and Health Staff
Three camp t-shirts
Staff will process needed laundry during the week
All meals and lodge snacks
Re-usable water bottle
I.D. badges
Backpack
Transportation to and from Orlando
All meals at Sea World
All special events at Sea World
Sea World Rescue facilities
Park admission to both Sea World and Busch Gardens
Behind the scene access
Veterinary practices and care facilities
Animal encounters
Proper dress and equipment required for Zoo areas
Photo access and camp video (produced after camp concludes)
Unique animal experiences based on age which will be revealed at Camp
Access to America's fourth most popular theme park rides
World class shows and entertainment
Lifelong friendships
Transportation back to airport on Wednesday, Jan. 1
Not included in the $875 fee:
Airfare to and from Tampa, Florida
Money for souvenirs