4-H College and Career Pathways Conference | Youth Futures and Juntos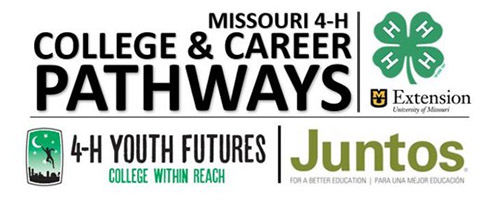 Next conference: Summer 2023
July 17-20
University of Missouri
Rising Seniors Weekend: July 15-16
Are you thinking of life after high school?
Do you have lots of questions?
If you answered yes to these questions, then consider this exciting four-day conference!
You will have a campus experience with overnight stays on the University of Missouri-Columbia campus. You'll stay in college dorms so you can get the feel of what it's like to live on campus.
Learn about financial aid
Attend workshops
Attend social events
Take practice ACT tests
Discover student programs
Learn enrollment procedures
Participate in panel sessions
Visit MU and LU colleges (such as Engineering and Journalism)
Eligibility
Are you ready? If these criteria apply, you are ready for Youth Futures.
You must be an active member (defined by each club) of a 4-H Youth Futures, Youth Futures SPIN, or Juntos club.
You must be connected to University of Missouri Extension and/or Lincoln University Extension programs.
You must be a current high school student and have completed at least the 8th grade.
You need help choosing and following a college or career path after high school and being successful on that path.
Funding provided by
Missouri 4-H Foundation
MU Deputy Chancellor – Diversity Fund
MU Vice Provost for Extension
Lincoln University Cooperative Extension
Youth Futures resources Know How 2 Go College Guide and Quiz Site
Show/Hide

FAQ

Show/Hide

What is the cost to attend the conference?

The fee to attend is $25 and includes all 4 days of housing, meals, activities, and all program activities. Scholarships are available through your program leader. There may be an additional out-of-pocket expense for a meal at a fast-food restaurant.

Show/Hide

What are the benefits of attending the conference?

You will:

Become familiar with college life
Learn about college enrollment procedures
Learn about applying for and receiving financial aid
Attend workshops and activities designed to help you succeed in college
Take a practice ACT test to help you prepare for college applications
Receive a lifelong appreciation for the college experience
Understand that college is an obtainable goal

Show/Hide

What happens after I attend the conference?

Your youth worker, or mentor, will contact you at least four times a year to talk about preparing for college. He or she will help you as you make college plans such as applying for college and financial aid, determining your course of study in college and other things you wish to discuss. We want to know that you are succeeding in your pursuit of a college degree.

Show/Hide

What do former youth participants say about what they learned during their Youth Futures experience?

"That attitude is everything. I can do it!"

"All your high school years count; scholarships are easy to get if you study hard."

"I knew college was important but I'm going off earlier than planned."

"I am happy that I got the privilege to attend this conference."

Show/Hide

How do I apply for the conference?

Contact Kellie Seals or call 573-884-9112.

Show/Hide

Experiences and evaluations

Our Youth Futures experience
by Maggie R. D'Agostino, Youth Futures participant

We will look back for years to come,
to remember the adventure we dared to take.

We were the first ones,
and we won't be the last.

The first time we said hello and found our rooms,
how unsure some of us felt not knowing many of you.

That first meal we just looked at each other,
but the last meal comes too soon.

The things we learned we shall pass on,
to new generations to come.

The fun and laughter and what we thought were hard times,
we will recall in the best of ways.

We held together like a family without a care,
and only knew each other for such little time.

The bond we made through those six days,
we will never forget.

The tears we shared will always be choice topic.

The last night we spent together,
followed by the last day.

We will remember how hard it was to say good-bye,
it will be forever etched in our hearts.