Missouri 4-H Crop Scouting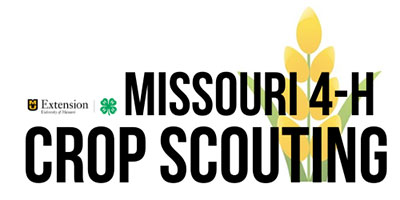 State 4-H Crop Scouting Event
Tuesday, July 18, 2023
Bradford Farm, Columbia, Mo.
Registration:
• This event is open to all Missouri 4-H and Missouri FFA youth. Registration is $25 per youth — no fee for coaches. Youth and coaches should register in 4-H Online between May 14 and July 5. Late registration ($40) runs from July 6 to July 12. No registrations will be accepted after July 12, 2023.
Age divisions are intermediate (ages 11-13) and senior (ages 14-18).
Teams must be composed of three to four youth. If a team cannot be filled, youth may compete as individuals. Youth are encouraged to have a coach identified.
Schedule for the day:
7:30–8:00 AM — Check In
8:00–8:15 AM — Welcome
8:15–9:00 AM — Educational Session with State Extension Specialists
9:15-11:35 AM – Stations
12 PM — Lunch
12:30 PM — Soil Sampling Session
1:30 PM — Awards
Program objectives:
Increase youth knowledge around common Missouri crops
Raise awareness of careers in agronomy
Foster a learning environment that creates wise consumers of agronomic knowledge and products
Outline of the event:
Connect with MU Extension experts.
Learn more about common Missouri crops.
Test knowledge and skills relating to crop scouting by visiting and completing a challenge at stations focusing on insects, diseases, soybean stages, corn stages, disorders, weeds, and pesticide safety.