Citizenship Washington Focus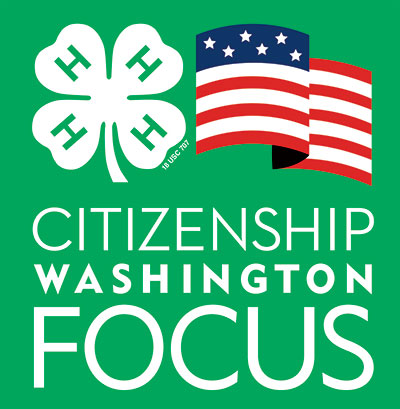 June 22-July 1, 2019
Washington D.C.
Learn leadership, live history, explore your nation!
Citizenship Washington Focus (CWF) is a 4-H leadership program for high schoolers aged 15 to 18. 4-H members will stay at the National 4-H Youth Conference Center, near Washington, D.C., and participate in a week-long program enriching their lives with activities that broaden their appreciation and respect for themselves and others. 4-H members will tour national landmarks and meet their elected officials. Side trips to Fort McHenry, Baltimore, and New York City will follow the conference.
Delegates participate in a variety of experiences in our nation's capital. Forums, workshops, prominent speakers, mock elections and congressional sessions are just a few of the fun activities offered. You won't want to miss this opportunity for a hands-on learning experience and a great time with other 4-H'ers.
4-H members will:
tour national landmarks,
meet elected officials,
create an action plan to help their communities, and
create life-long memories.
"Citizenship Washington Focus gave me the opportunity to see what our government and America's history are all about and the ability to bring back what I learned to have a positive impact on my club, my community, my country and my world." — Nikki Shaw, Michigan
Citizenship Washington Focus Evaluation (PDF)
Application and cost
Total trip cost: $2,000
Costs include all travel expenses on chartered bus, tours and ticket costs, lodging at the National 4-H Center and hotels, meals, registration for the CWF conference, Dinner Theater, and CWF and Missouri 4-H polos. The only expense not included is cost of souvenirs. Cost includes funds for meals while traveling.
Payment schedule: Dec. 3: $500 and application; Jan. 14: $500; Feb. 15: $500; April 15: $500
Youth specialists Patty Fisher and Sarah Morefield will be chaperoning.
Visit Citizenship Washington Focus for more information.