Citizenship Washington Focus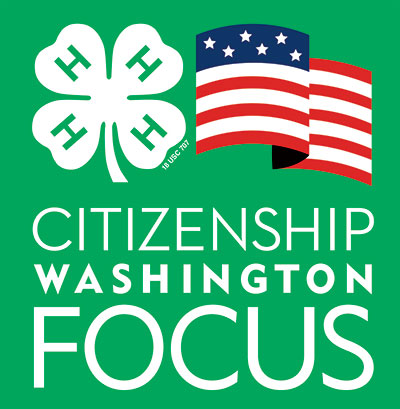 July 1–July 11, 2022
Washington D.C.
Citizenship Washington Focus (CWF) is National 4-H Council's premier leadership and civic engagement experience for high school students.
Missouri delegates will experience Washington D.C. like never before by using the nation's capital as their classroom, connecting with young leaders from across the country and gaining the skills to become effective change agents. The Missouri delegation will also have the opportunity to visit Gettysburg and Colonial Williamsburg before and after the conference.
During the CWF program week, delegates will:
Strengthen communication, leadership and civic engagement skills on a national level
Understand the importance of Youth Voice and the skills necessary to make change in your community, such as civil discourse and media literacy
Exchange ideas, practice respect and form friendships with other youth from diverse backgrounds
Experience hands-on learning using the historical backdrop of our nation's capital city, Washington, DC, as their classroom
Create a plan and work with their fellow delegates to develop the steps to carry out the plan upon their return home, to make a difference in their community
"Citizenship Washington Focus gave me the opportunity to see what our government and America's history are all about and the ability to bring back what I learned to have a positive impact on my club, my community, my country and my world." — Nikki Shaw, Michigan
Application and cost
Total trip cost: $2,600
Costs include all travel expenses on chartered bus, tours and ticket costs, lodging, meals, registration for the CWF conference, CWF and Missouri 4-H polos. The only expense not included is cost of souvenirs. Cost includes funds for meals while traveling.
Payment schedule: Jan. 10, $650 and application; Feb. 10, $650; March 10, $650; April 10, $650
Registration will be open in 4-H Online from November 5, 2021 until January 10, 2022.
Youth specialists Bob McNary and Becky Simpson will be chaperoning.
Visit Citizenship Washington Focus for more information.