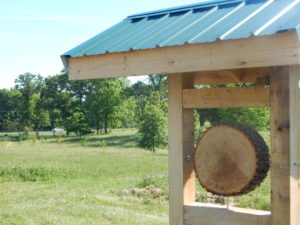 The Native Tree Grove at Jefferson Farm and Garden.
Education
Jefferson Farm and Garden is a 67-acre educational farm designed to engage the community in experiences about food and agriculture. There will be numerous opportunities to visit Jefferson Farm and Garden this year, with activities for children and adults alike. Jefferson teams up with several organizations to provide those educational opportunities.
Native Tree Grove
Educational plantings, including the Native Tree Grove, are available during tours and other events. The Native Tree Grove showcases some of Missouri's most important native tree species, which provide humans and the environment with numerous benefits. Along with providing oxygen and absorbing pollutants, native trees are important because they are adapted to the soil and weather of a region, making them resilient to pests, diseases and weather variations. They are also homes for various sorts of wildlife, which use the branches, trunks, and roots as habitat.
Enjoy this virtual field trip to get a glimpse of what you will see at Jefferson Farm and Garden in the newly developed Native Tree Grove.