Missouri Dairy industry snapshot
Missouri's State Ranking
Number of cows: 24th
Total milk production: 26th
Milk production per cow: 45th
Dairy cows are located throughout Missouri. However, the Missouri milk cow population tends to concentrate in the state's southwest and south central regions. In 2020, the Missouri counties with the largest dairy cow inventories were Barry, Wright, Vernon, Lawrence and Scotland counties, though some counties were not reported by USDA to avoid disclosing data for individual operations.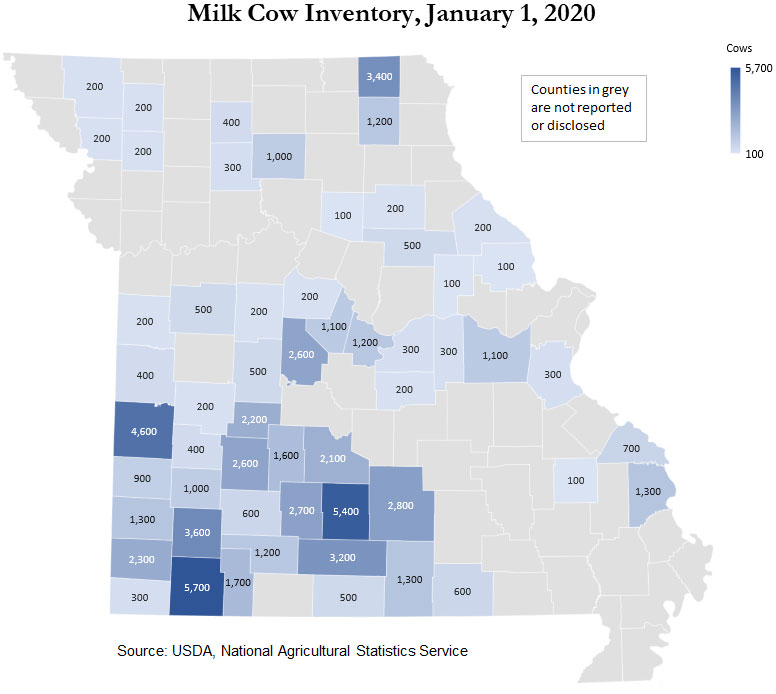 Missouri dairy cow inventory has decreased over time. In 2019, Missouri farms maintained 78,000 milk cows. Many nearby states such as Arkansas, Illinois, Kentucky and Tennessee have reduced their dairy cattle inventories over the past two decades. Iowa has generally stayed level over time, while Kansas has experienced growth over the last 10 years.
The number of Missouri's dairy farms are declining slowly. In December 2020, 684 permitted dairy farms operated in Missouri. Of these, 499 were Grade A farms, and 185 were manufacturing-grade farms, which includes Amish farms and some goat or sheep dairies.
The dairy industry is an important contributor to Missouri's economy. During 2018, the state's dairy industry generated $198 million in milk cash receipts. These receipts represented about 4 percent of livestock cash receipts in Missouri. Additionally, these cash receipts stimulate other economic effects and contribute to the state's economy.
Missouri's milk production per cow tends to be low when compared to other U.S. states. An average U.S. dairy cow produced 23,391 pounds in 2019 as compared to Missouri's average of 14,103 pounds. A common explanation for this deviation is the state's reliance upon pasture-based dairy systems rather than confinement systems. Since 2005, Missouri's large-scale adoption of low-input intensive rotational grazing dairying has decreased and slowed the growth in the state's average milk production per cow.