Distributed Energy Resources: A Primer for Missouri Farmers
Matt Ernst
Independent Writer
Joe Horner
Agricultural Economist
Ryan Milhollin
Assistant Extension Professor, Agricultural Business and Policy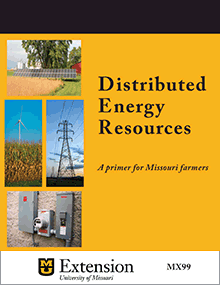 Major changes are occurring in how electricity is generated, distributed and used. These changes impact Missouri. This publication is designed to explain this transition from centralized energy generation towards distributed energy generation and the potential impacts it will have for rural landowners.
Wind and solar generation continue to grow in the U.S. and Missouri for three reasons:
The declining lifetime costs of wind and photovoltaic solar.
Economic incentives for renewable energy investment and generation.
Increased costs for energy companies to maintain coal-fired electricity generation.
Growth in renewable energy contributes to two scenarios in rural Missouri. First, rural landowners may receive proposals from utility-scale wind and solar energy developers to lease land. Second, consumers may receive offers and incentives to install on-farm solar panels, generators, batteries and other behind-the-meter electrical systems. This publication summarizes trends, explains the players and policies involved and guides landowners to information helpful in understanding renewable energy opportunities.
Topics
Centralized and distributed electricity generation

Centralized generation and distributed electricity resources
Electricity generation in Missouri
Changes in electricity generation in Missouri

The power grid and components of electricity costs

Interconnections, regional transmission organizations (RTOs) and independent system operators (ISOs)
Electricity cost components
Definitions of key terms

Distributed energy resource (DER) technologies

Photovoltaic (PV) solar
Wind
Combined heat and power (CHP)
Other DERs

Future implications of distributed energy resources (DERs)

DERs and grid management
Opportunities from DERs for Missouri farmers and landowners
Land leases
Behind-the-meter generation
DERs and farm risk management
Pages