Community Gardening Toolkit - Page 4
The history of community gardening
1890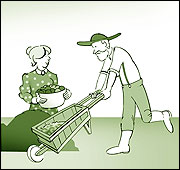 Community gardens have been used in American cities since the 1890s, with the first gardens appearing in Detroit. During the initial phase of community gardening, a variety of groups, including social and educational reformers, along with those involved in the civic beautification movement, were responsible for promoting community gardening. Community gardens began as a way to provide land and technical assistance to unemployed workers in large cities and to teach civics and good work habits to youth.

1918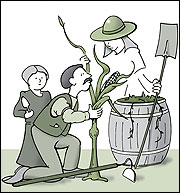 During World War I, the government promoted community gardens to supplement and expand the domestic food supply. The federal government embarked on an unprecedented effort to incorporate agricultural education and food production into the public school curriculum through a Bureau of Education program called the United States School Garden Army. According to the USSGA, several million children enlisted in the program, 50,000 teachers received curriculum materials and several thousand volunteers helped lead or assist garden projects.

1930
During the Great Depression, community gardens provided a means for the unemployed to grow their own food. During this time, private, state and local agencies provided individuals with garden plots and employment in cooperative gardening. More than 23 million households, growing produce valued at $36 million, participated in various garden programs in 1934 alone.
1940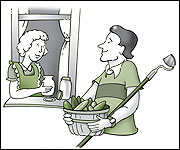 The Victory Garden campaign during World War II encouraged people to grow food for personal consumption, recreation and to improve morale. After the war, only a few gardening programs remained, and it was these remaining programs that gave rise to the rebirth of community gardening in the 1970s.

1970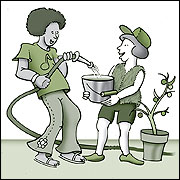 The rebirth of community gardening in the 1970s was a response to urban abandonment, rising inflation, environmental concerns and a desire to build neighborly connections. Citywide organizations assisted people with acquiring land, constructing gardens and developing educational programming. Local residents, facing a myriad of urban problems, used gardens to rebuild neighborhoods and expand green spaces. Although common themes of food production, income generation, recreation, education and beautification still provided a strong rationale for gardening, a new focus was placed on rebuilding social networks and the infrastructure of blighted urban communities.