The Missouri Criminal Code: A Handbook for Law Enforcement Officers
Editor's note
Need to order this publication for your tax-exempt organization?
(1) If you do not already have an account on MU Extension, create an account using your work email address (select "Build profile" at the top of this page and create an account).
(2) Then call customer support at 573-882-7216 to request to have your account enabled for placing tax-exempt orders. You will need to provide your account's email address and your organization's tax-exempt number.
This 36th edition of The Missouri Criminal Code: A Handbook for Law Enforcement Officers includes the most recent changes in the Missouri Revised Criminal Code, including those that took effect Aug. 28, 2020.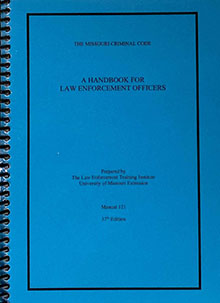 The Missouri Criminal Code Handbook is the source document that all Missouri academies are required to use for teaching the objectives of the Missouri statutory law. It covers relevant laws and scenarios that you could encounter on the job. Each section details a specific area of the law and makes the legal jargon of police work understandable.
This spiral-bound handbook offers examples of Missouri offenses and insights to investigate them. It provides answers that will legally protect you, the law enforcement officer. Geared to in-service police officers, The Missouri Criminal Code Handbook gives you the confidence that comes with knowing your own legal rights as you protect public safety.
Update notice
Substantial changes in the Missouri Revised Criminal Code have taken place since its Jan. 1, 2017, effective date. To the best extent possible, those changes have all been incorporated into this revised Handbook. Anyone using any previous Handbook or Supplement has the responsibility to check the accuracy of the material found in them due to the numerous changes that have taken place.
This new Handbook contains current law up to Aug. 28, 2020, but it does not contain each and every law passed by the Missouri Legislature. That is, it does not aim to duplicate the complete Missouri Revised Statutes. It is only meant to contain the working legal statutes that officers would be most likely to use in their day-to-day operations.
This edition was published prior to the Special Legislative Session on Violent Crime. Any changes from that special session will be reflected in the next edition.
If there is any question as to the law or its application, seek the advice of your agency attorney or of the prosecutor that serves your jurisdiction for clarification.
Pages