Counties Map
East Central MO
Northeast MO
Northwest MO
Southeast MO
Southwest MO
Urban East MO
Urban West MO
West Central MO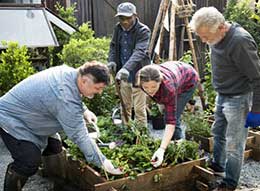 In-depth horticulture training for Missourians who wish to spread their knowledge of gardening.
Master Gardeners
Warren County Master Gardeners
In 2003, Warren County held its first Master Gardener program. Since that time, the Master Gardeners have taken on several community projects. One of those projects include maintaining the landscaping and grounds around the Schowengerdt Historical Home in Warrenton.
Master Gardeners are individuals who enjoy learning and sharing their gardening knowledge with others. There are no prerequisites to participate in Master Gardener training, except to have an interest in gardening, a willingness to learn and a desire to give back to local communities through volunteer service and education.
After completing training, Master Gardeners expand the reach of University of Missouri Extension using research-based horticultural information to answer gardening questions in their local communities.
Get help: If you have lingering questions – ask for help! Your local Master Gardener group is a good place to start (Phone: 636-456-3444).
Use Tab key to loop through the section below. Press Enter or Space to enter content for each tab button. Press Esc key to exit and to go to the next section at any time.