Counties Map
East Central MO
Northeast MO
Northwest MO
Southeast MO
Southwest MO
Urban East MO
Urban West MO
West Central MO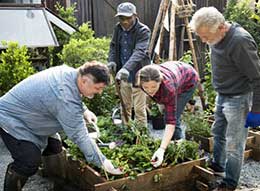 In-depth horticulture training for Missourians who wish to spread their knowledge of gardening.
Master Gardeners
Vernon County Master Gardeners
You may become a Master Gardener if…
You want to learn more about plants and gardening.
You are eager to participate in practical and intensive training sessions. Classes are a minimum of 30 hours, usually ten three-hour classes. Cost is about $125 - $150.
You can volunteer at least 30 hours the first year and 20 hours each year afterwards to educational horticulture programs through MU Extension.
You enjoy sharing your knowledge with others.
What do Master Gardeners do?
The primary responsibility of a Master Gardener is to answer questions about home horticulture and to help find environmentally sound solutions to gardening and landscape problems. Extension specialists and Advanced Master Gardeners are available to help and advise as needed.
Other opportunities include:
Conduct education seminars through the Master Gardener speaker's bureau that gives educational presentations to groups such as garden clubs, community associations or school classes.
Work in clinics in the community, helping local residents diagnose plant and insect problems.
Write articles for newsletters, newspapers and other publications.
Staff exhibits at home and garden shows and fairs.
Organize community gardening projects.
Develop youth gardening programs.
Teach gardening classes.
Conduct home horticulture research.
Assist in senior gardening programs.
If you are interested, contact the Vernon County University of Missouri Extension Center at 417-448-2560. Classes are scheduled when there is enough interest to have the minimum number of participants.
Use Tab key to loop through the section below. Press Enter or Space to enter content for each tab button. Press Esc key to exit and to go to the next section at any time.