Counties Map
East Central MO
Northeast MO
Northwest MO
Southeast MO
Southwest MO
Urban East MO
Urban West MO
West Central MO
Follow Phelps County Master Gardeners

Facebook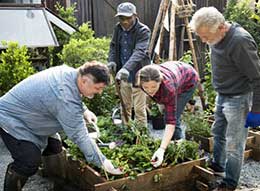 In-depth horticulture training for Missourians who wish to spread their knowledge of gardening.
Master Gardeners
Phelps County Master Gardeners
Master Gardeners are a group of dedicated volunteers who give back to their communities through educational programs on gardening and community projects. Master Gardeners provide unbiased horticultural information and education to the public based on proven research, specific to the climate, soil and other growing conditions of our county.
To become trained as a Master Gardener, individuals must attend the 30-hour classroom core training and agree to provide 30 hours of volunteer service to their community. Then Master Gardener trainees are required to give 30 hours of volunteer service back to their community in approved University of Missouri Extension activities.
Garden Spade Newsletter
Read issues of The Garden Spade, Phelps County's Master Gardener newsletter.
Use Tab key to loop through the section below. Press Enter or Space to enter content for each tab button. Press Esc key to exit and to go to the next section at any time.