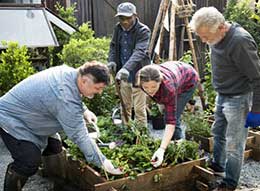 In-depth horticulture training for Missourians who wish to spread their knowledge of gardening.
Master Gardeners
Salt River Master Gardener Club
Meetings are held the first Tuesday of every month at 7 p.m. at Hannibal LaGrange University. Meeting times and locations may be modified at the club's discretion.
Use Tab key to loop through the section below. Press Enter or Space to enter content for each tab button. Press Esc key to exit and to go to the next section at any time.