Counties Map
East Central MO
Northeast MO
Northwest MO
Southeast MO
Southwest MO
Urban East MO
Urban West MO
West Central MO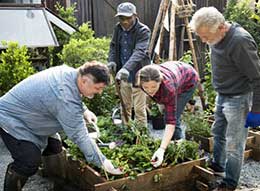 In-depth horticulture training for Missourians who wish to spread their knowledge of gardening.
Master Gardeners
Master gardeners are trained volunteers with gardening backgrounds ranging from hobbyist to professional, from beginner to experienced and from young adult to senior citizen. The common bond is a love of gardening, learning and sharing.
After training, master gardeners serve as a resource with University of Missouri Extension to give county residents research-based answers to their gardening questions. Voluntarism is at the heart of the master gardener program, but members rate camaraderie and learning opportunities as important reasons for participating.
Master Gardeners complete 30 hours of volunteer service following their initial training, working on approved projects in the community. Subsequent years require master gardeners to complete 20 hours of volunteer service.
Lincoln County Master Gardeners meet at 7 p.m. on the second Wednesday of the month at the Lincoln County Extension Center. Call 636-462-5782 for more information on how to become a Master Gardener.
Show/Hide

Core training

Completing core training is the first step toward becoming a master gardener. Taught by MU Extension personnel and certified master gardeners, training topics include:

Missouri Master Gardener program policies and procedures
Plants and their environment
Plant propagation
Soils, plant nutrition and nutrient management
Vegetable gardening
Fruit production
Establishment and care of woody ornamentals
Pruning ornamental trees and shrubs
Establishment and care of herbaceous ornamentals
Managing lawns and turfgrass
Residential landscaping
Insects
Preventing and managing plant diseases
Using pesticides safely in the home and garden

Show/Hide

Annual plant sale

Thanks to all who came out to make this year's plant sale a huge success!

We plan to use the funds to provide a college scholarship and educate the public through our demonstration gardens at the Lincoln County Health Department, the county courthouse and other local projects.

Show/Hide

Lincoln County Master Gardeners scholarship

Lincoln County Master Gardener member Kim Robinson was proud to present the recipient of the fifth annual $500 scholarship to Caleb Hudson at Silex High School's Senior Awards Night.

Caleb's many academic accomplishments, his active FFA involvement with several impressive local and state awards, his extensive 4-H participation and numerous officer positions as well as his genuine enthusiasm and passion for agriculture made him an outstanding candidate for the scholarship. He plans to attend the University of Missouri in Columbia and major in plant science. Master gardeners are excited to "plant the seed" for Caleb to "grow" his dreams toward a successful career in plant science. Congratulations!

Show/Hide

Speakers bureau

Master Gardeners are available to give presentations to schools, clubs and organizations in the area for a speaker fee of $25. Call 636-462-5782 to schedule a speaker.
Use Tab key to loop through the section below. Press Enter or Space to enter content for each tab button. Press Esc key to exit and to go to the next section at any time.