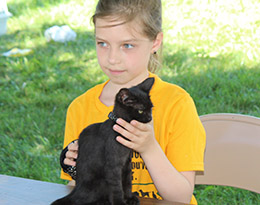 Check out the event page for fair info, forms and the Fairbook.
4-H
Welcome to Lafayette county 4-H! We are excited about your interest. 4-H envisions our world as a place where youth and adults learn, grow and work together for positive change. There is a place for you in that vision! Contact us to learn more.
Get involved! Join 4-H
Lafayette County 4-H has over 300 youth members, ages 5 to 18, and over 200 adult volunteers. 4-H clubs are located in each corner of the county and points in between. Youth can join any one of 12 clubs where they can attend meetings, complete 4-H projects, exhibit at county and state fairs, participate in local, state and national trips and events, and qualify for college scholarships. To find out more, contact the Lafayette County Extension Center. To enroll in 4-H go to the website using Chrome: https://extension.missouri.edu/programs/missouri-4-h/get-involved-with-4-h/join-4-h
Get Involved! Become a 4-H Volunteer!
Missouri 4-H volunteers help youth ages 5 to 18 feel safe and supported to learn and lead. Contact the Lafayette County Extension Office for more information at (660) 584-3658. All Volunteers are required to complete a Annual Background Check Consent Form LG639. Go to https://extension.missouri.edu/programs/missouri-4-h/get-involved-with-4-h/volunteer-with-4-h.
Lafayette County 4-H Calendar
Show/Hide

Lafayette County 4-H clubs

Show/Hide

Alma

1st Wednesday , 7 p.m.
1st Thursday during March & April , 7 p.m.
Alma City Hall
Tiffany Bergman 660-641-4406

Show/Hide

Fairview (Lexington)

1st Monday, at 7 p.m.
First Baptist Church
Michelle Roush 660-909-6915
John Morgan 660-909-2259

Show/Hide

40-Ville (Mayview)

1st Tuesday, 7 p.m. (1st Sunday Oct & Nov) Mayview Community Building
Tresina Alvested 816-230-4450
Stacy Begemann 816-729-6206
Sallie Baker 816-441-5406
Jessica White 816-289-9868

Show/Hide

Glory Riders (Oak Grove)

1st Thursday in Jan, Feb, April, Sept and Oct
Oak Grove Methodist Church
Meets on Thursday evenings at the Oak Grove Arena when weather permits
Mike and Sheryl Dowell 816-690-6732

Show/Hide

Hazel Dell (Higginsville)

1st Monday, 7 p.m.
Lafayette County Extension Office
Kim Dyer 660-422-1691
Sandie Neal 816-786-3591

Show/Hide

Hitt (Corder)

2st Sunday, 6 p.m.
Corder VFW, Hwy 20
Sara Frerking 660-641-3454
Courtney Bergsieker 660-251-1450
Jessica Fisher 660-422-2535

Show/Hide

Mighty Mo (Odessa)

1st Monday, 7 p.m.
Odessa Restoration Branch - Odessa
Jennifer Daubendieck 816-509-1072
Karen Johnson 816-808-9432
Amanda Spradley 816-804-7820
Robert Hotmer 816-863-0603

Show/Hide

Napoleon Cloverleaf

1st Sunday , 6 p.m.
Wellington Fair Building, Wellington
Erin Dieckmann 816-616-4249

Show/Hide

Southwest (Higginsville)

2nd Sunday, 6:30 p.m.
Presbyterian Church, Higginsville
Shelli Twyman 660-584-2831

Show/Hide

Walkenezer (Concordia)

4th Monday, 7 p.m.
Concordia Community Center
Sarah Heins 660-864-4314
Beth Maggert 660-463-7552
Becky Haase 660-422-2234

Show/Hide

County Wide Shooting Sports: Range Masters

Last Tuesday of Sept., Nov., Jan., March, May and July, 7 p.m.
Community Bldg, Higginsville
Lon Hemmen 816-807-5436
Ross Hall 816-824-5119
Use Tab key to loop through the section below. Press Enter or Space to enter content for each tab button. Press Esc key to exit and to go to the next section at any time.