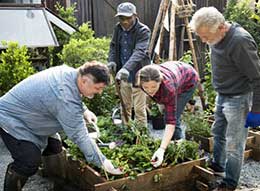 In-depth horticulture training for Missourians who wish to spread their knowledge of gardening.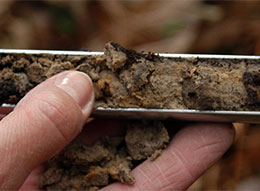 Need your soil tested?
Follow these links for help:
Submit samples to your local extension office.
Master Gardeners
Jasper County Master Gardeners
The mission of the Missouri Master Gardener Extension Program is "helping others learn to grow." The Master Gardener program provides in depth horticultural training to individuals throughout Missouri. They then volunteer their time applying what they have learned to help others in their communities learn about gardening and environmental education. The Master Gardener Program in Missouri promotes and raises public awareness of University of Missouri Extension as a source of unbiased, research-based gardening information.
Through activities such as Extension helplines, workshops, speaker's bureaus, garden show booths and demonstration projects, Master Gardeners provide gardening information to thousands of Missourians each year.
Any resident with an interest in gardening, novice or expert, may take the Master Gardener Core Course.
Master Gardeners moving from other states are evaluated on a case-by-case basis through discussion with the individual, local coordinator and state coordinator.
At the heart of the Missouri Master Gardener program is our volunteers. Volunteers assist the University of Missouri Extension Service personnel to extend the educational arm of the university to the public by providing horticultural information based on university research and recommendations.
In other words, the Missouri Master Gardener program is a place for volunteers to have a fun, educational experience while serving the community in which they live while doing what they love.
Become a Master Gardener
If you enjoy gardening, want to learn more about horticulture, and are willing to share with others what you know and learn, you're a prime candidate to become a Master Gardener.
Ozark Gateway chapter
In Jasper County, a participant must receive 30 hours of classroom instruction and agree to volunteer 30 hours back to the community. A participant must complete 20 hours of volunteer service, plus an additional six hours of continuing education yearly. The volunteer service has taken on many forms. Several have participated in community garden and community beautification projects. Some have given programs to various school groups, gardening clubs and residential care units. Others have provided assistance with a helpline in the University of Missouri Extension Center during the summer months. A fee is charged to cover the cost of the course core manual, handouts and other expenses. Other arrangements can be made if a participant does not wish to contribute volunteer hours.
The annual course covers a wide variety of topics including trees and shrubs, annuals and perennials, lawns, soils and fertility, pest management, control of invasive and noxious weeds and pests, fruits and vegetables, and extending the season with cold frames, hoop houses and high tunnels. Organic methods and traditional methods will be discussed and you will be introduced to research on new crops for this area. In the final part of the course you will learn the best ways to help others learn to grow.
Plant sale
The chapter's annual plant sale is usually held in May. Plants are sold at reasonable prices and include perennials, bedding plants, bulbs, trees, natives and other seasonal plants
Community projects
Master Gardeners in Jasper County maintain gardens at the Carthage Public Library, a community garden at Crosslines in Joplin, a demonstration garden at Shoal Creek Conservation Education Center, and the Webb City Farmers Market children's garden.
Scholarships awarded
The Ozark Gateway Master Gardeners have awarded scholarships to two local students.
Use Tab key to loop through the section below. Press Enter or Space to enter content for each tab button. Press Esc key to exit and to go to the next section at any time.