Farm Family
Each year, Howard County Extension selects a local farm family as the Farm Family of the Year to represent Howard County at the Missouri State Fair. The farm family chosen should meet the following criteria:
Be actively engaged in agricultural activities and rely on University of Missouri Extension and the College of Agriculture, Food and Natural Resources for their programming and technical assistance
Be active supporters and cooperators with the University of Missouri Extension
Take an active leadership role within their community
Have at least one child actively involved in 4-H, FFA or any other youth organizations
Be respected by their neighbors and their community
Are interested in participating in and agree to represent their county at the Missouri State Fair
The 2019 Farm Family
Local residents chosen as Missouri Farm Family for Howard County
FAYETTE, Mo. — Scott and Lorinda Cooper and family of Glasgow were among the families honored during the 61st Annual Farm Family Day, Aug. 12 at the Missouri State Fair.
The Cooper family was selected as the Howard County Farm Family by University of Missouri Extension in Howard County and Farm Bureau. The family includes their two children, Tucker and Kason. The Cooper family operates a cow/calf operation, sells breeding stock, and does some custom hay bailing. Tucker and Kason have both been members of 4-H and show cattle, usually showing "home raised" heifers. Tucker is involved in Future Farmers of America (FFA). Scott has served as the 4-H Beef leader for several years. The Cooper family is a member of the Howard County Cattlemen's Association and Missouri Farm Bureau.
Each year, the fair sets aside a day to recognize farm families from across the state that are active in their communities, involved in agriculture, and/or participate in local outreach and extension programs such as 4-H or FFA.
The annual event is sponsored by five partner agencies: the Missouri Farm Bureau, the Missouri Department of Agriculture, the Missouri State Fair Commissioners, the MU College of Agriculture, Food and Natural Resources, and MU Extension and Engagement.
This year, all 114 Missouri counties plus the City of St. Louis participated, honoring nearly 500 people from the 115 farm families.
The event showcases the impact Missouri Farm Families have on the economy and heritage of the state, said Missouri State Fair Director Mark Wolfe. "These families are involved in agriculture activities in their communities and are active participants in local outreach and extension. As the premier showcase for Missouri agriculture, the Missouri State Fair is most certainly the appropriate place to celebrate these families."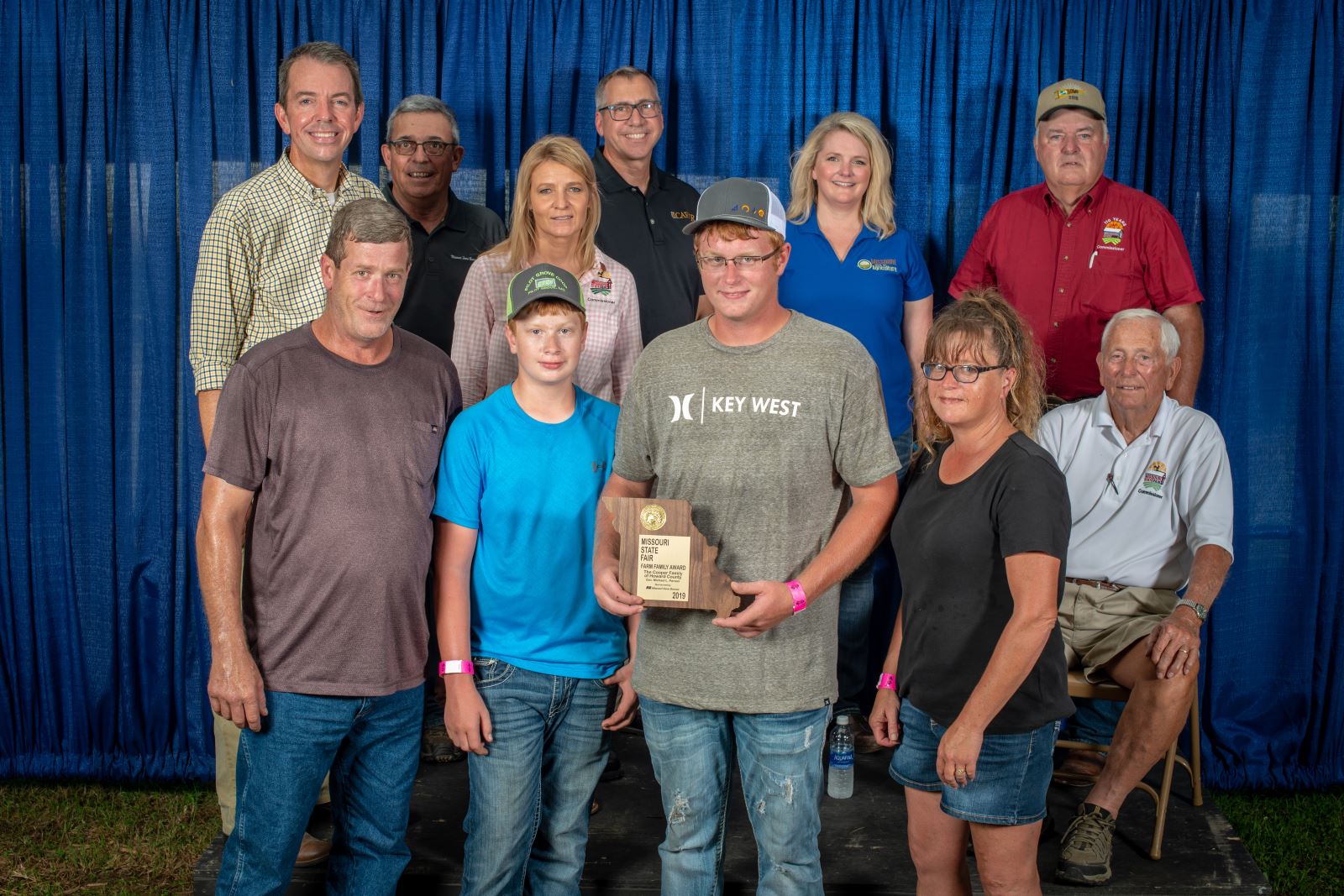 Back row left to right: Dignitaries Marshall Stewart, Vice Chancellor for MU Extension & Engagement & Chief Engagement Officer UM System; Blake Hurst, President, Missouri Farm Bureau; Nikki Cunningham, Missouri State Fair Commissioner; Christopher Daubert, VC and Dean, MU College of Agriculture, Food and Natural Resources; Christine Chinn, Director, Missouri Department of Agriculture; Ted E. Sheppard, Missouri State Fair Commissioner; (Seated) Lowell Mohler, Missouri State Fair Commissioner
Howard County Farm Family 2019 in front, (left to right): The Cooper Family – Scott, Kason, Tucker and Lorinda Cooper