Counties Map
East Central MO
Northeast MO
Northwest MO
Southeast MO
Southwest MO
Urban East MO
Urban West MO
West Central MO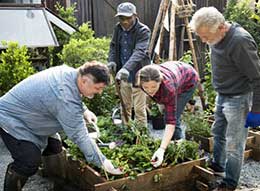 In-depth horticulture training for Missourians who wish to spread their knowledge of gardening.
Master Gardeners
Join the Daviess County Master Gardeners.
We meet monthly for community service projects, educational training on gardening topics, occasional tours and more.
For complete information on how to join, see Northwest Missouri Horticulture.
The Northwest Missouri Region of University of Missouri Extension covers an area of twenty counties. The interest is great for Master Gardener training in many communities. In order to provide training for residents of this large area we occasionally use ITV (interactive television) and web conferencing technology. The program is presented live with the presenter at one location and other sites receiving the presenter over the ITV or web conferencing system.
Use Tab key to loop through the section below. Press Enter or Space to enter content for each tab button. Press Esc key to exit and to go to the next section at any time.