Follow Central MO Master Gardeners

Facebook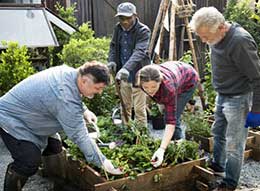 In-depth horticulture training for Missourians who wish to spread their knowledge of gardening.
Master Gardeners
Central Missouri Master Gardeners
The Central Missouri Master Gardeners (CMMG) have been in Cole County since the early 1990's and are a very active group. Annually, around 200 CMMG donate approximately 8,000 volunteer hours to approved projects. Some of the approved projects include the Cole County Extension grounds, the Master Gardener Greenhouses, Habitat for Humanity, Missouri River Regional Library, McKay Park sign area, Rape and Abuse Crisis Center and others.
The Master Gardener program is offered to interested gardeners, aged 16 and older. For more information, contact the Cole County Extension Office at 573-634-2824 or email. You can also join the CMMG Facebook Group for news and updates.
The public is invited to attend the monthly meetings. Meetings are currently held on the 4th Tuesday at 6 p.m. CMMG does not meet in December. Contact us for more information.
Show/Hide

Central Missouri Master Gardeners' Annual Plant Sale

The Central Missouri Master Gardeners' Annual Plant Sale is held the first weekend in May at our greenhouses in North Jefferson City. You can expect to find a large variety of vegetables, herbs, annuals and perennials, houseplants and more. This plant sale happens rain or shine. More information can be found on the group Facebook page.

Show/Hide

Master Gardener Scholarship

Scholarships will be awarded to students that reside in Callaway, Cole, Moniteau, Osage, Maries and Miller counties. Applicants must be planning to enroll in an accredited college, university, technical or trade school for the fall term of the current year. Applicants are limited to those who plan to study horticulture, agriculture, conservation or forestry. Applications (PDF) are accepted until the last day in February. Contact the Cole County Extension Center for more information.
Use Tab key to loop through the section below. Press Enter or Space to enter content for each tab button. Press Esc key to exit and to go to the next section at any time.