Follow Christian County Master Gardeners

Facebook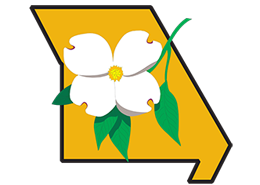 Missouri Master Gardeners, bookmark this link to the online system for reporting your hours.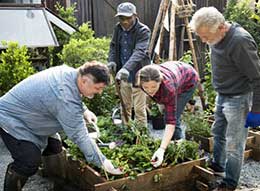 In-depth horticulture training for Missourians who wish to spread their knowledge of gardening.
Master Gardeners
The Master Gardener program is an opportunity for novice and experienced gardeners to learn and share knowledge with others. As representatives of MU Extension, Master Gardeners are involved in a variety of activities that benefit community, families and individuals while developing horticultural interests.
You can keep up with Christian County Master Gardener meetings, seminars, tours and other activities on our Facebook page - Christian County Master Gardeners.
To learn about our activities in 2022, check out our annual report under Resources.
Hotline
Gardening questions? Call our hotline at 417-581-3558. The Christian County Master Gardeners will check messages and return calls Monday–Thursday 9 a.m. to 12 p.m. mid-March through mid-October.
Plant sale
The chapter's annual plant sale is held in May. Plants are sold at reasonable prices and include perennials, bedding plants, bulbs, trees, natives and other seasonal plants.
Local projects
City of Clever Gardens – Clever
Gardens at Woodfield – Nixa (The Gardens at Woodfield is located on Truman Blvd., near McLean Ct.)
Ozark Daffodil project
Rotary Park – Nixa (Rotary Park is located on the Southwest corner of the intersections of Fort St and Tower St.)
Meetings
We welcome guests at our monthly meetings, which are held at 6:30 p.m. on the 4th Monday of each month except for May and December.
Christian County Master Gardener Chapter Officers
President – Ed Kucab
Vice President – Linda Smith
Secretary – Patty Baker
Treasurer – Sue Helm
Programs – Kirsten Markley and Dennis Baker
New Member Chair - Beth Platt
Becoming a Master Gardener
Show/Hide

New members

CCMG is a hard-working chapter dedicated to educating ourselves and the public about safe and sustainable and effective garden practices. But we also have a lot of fun, from our monthly meetings that include refreshments, social time, raffles and show-and-tells, to field trips, garden tours and enjoying each other's company as we work on garden projects.

To learn more about becoming a Master Gardener, here are some actions you can take:

Contact the Christian County MU Extension office to sign up for a training class in the fall or simply ask questions. Classes are held over a six-week period, with each class about three hours long. After graduating from the class, you are an intern who must complete a total of 30 hours of education and volunteering over the next year with our chapter. We offer three $100 training scholarships to new graduates to reimburse them for half of the $200 Master Gardener training. To apply once you have completed the training, use the form found under Resources.
Call our Master Gardener Hotline at 417-581-3558 from 9 to 12 a.m. mid-March to mid-October to leave a message for the Master Gardener on call. This member can answer a lot of your questions.
Talk to our new members chair. Ask the Extension office's receptionist and office manager for an email or phone number.
Attend a monthly meeting of our chapter to get to know our members. Register to attend our programs at 417-581-3558. We meet the fourth Monday of most months at 6:30 p.m.
Visit the Missouri Master Gardener program website to learn more about the program and to sign up for online training.

Show/Hide

Advanced Master Gardeners

Master Gardener is a pretty impressive title to have. Even better is Advanced Master Gardener. Now, Master Gardeners can earn "advanced training" credits (beyond what they pick up at monthly meetings and even seminars and workshops).

Advanced training must be taught by an instructor approved by a designated Extension coordinator for your area of the state. The instructor must be a qualified horticulturist or well-known authority in the field of horticulture. If you accumulate 30 hours of advanced training covering at least three horticulture disciplines within five years, you may earn the title of Advanced Master Gardener. No more than 10 hours per discipline can be applied to the 30-hour total, and hands-on training experiences are preferred. In other words, it's a workshop where part of the presentation is a lecture or formal presentation and another portion has some type of hands-on feature. Note that advanced training can come from sources other than Master Gardener chapters. Other horticultural organizations, a well-known horticulturalist and colleges and universities are other sources for advanced training. Just be sure your regional Extension coordinator for advanced training approves one of these other sources.

What are the horticulture disciplines referenced above? The Policies and Procedures lists them as:

Plants and their environment
Plant propagation
Soils, plant nutrition and nutrient management
Vegetable gardening
Fruit production
Establishment and care of woody ornamentals
Pruning ornamental trees and shrubs
Herbaceous ornamentals
Managing lawns and turf grass
Landscaping your front yard
Insects
Preventing and managing plant diseases
Using pesticides safely around the home and garden

If you're a CCMG member and would like to earn the Advanced Master Gardener certification, let the executive board know, and we'll see what we can do to help you find approved training.
Use Tab key to loop through the section below. Press Enter or Space to enter content for each tab button. Press Esc key to exit and to go to the next section at any time.