Counties Map
East Central MO
Northeast MO
Northwest MO
Southeast MO
Southwest MO
Urban East MO
Urban West MO
West Central MO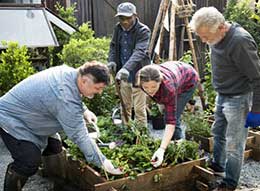 In-depth horticulture training for Missourians who wish to spread their knowledge of gardening.
Master Gardeners
Note: During the Covid-19 pandemic, Master Gardeners will still be taking calls and assisting the community with tree, lawn or gardening questions. Call at the times and days listed below at the same phone number.
Gardening questions?
Call our horticulture hotline at 816-380-8194. We will be glad to assist you with a personal consultation. The Master Gardeners of Cass County will check messages and return calls on Wednesday mornings between 9 a.m. to 12 p.m, March through September.
Cass County Master Gardener Ready Set Grow Newsletters
Master Gardener meetings
Meetings are held the second Thursday of every month at the extension office at 6 p.m.
Want to become a Master Gardener?
Contact the extension office Monday through Friday, 8 a.m. to 4:30 p.m. at 816-380-8460.
Local projects
Community gardens
CasCo workshop
Raingardens
Cass Regional Medical Center
Speakers Bureau
Feel free to contact the Master Gardeners at 816-380-8194 or by email at [email protected] if you would like more information regarding any of our projects.
Use Tab key to loop through the section below. Press Enter or Space to enter content for each tab button. Press Esc key to exit and to go to the next section at any time.