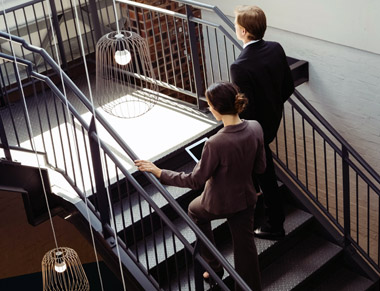 Employers can promote healthy habits in the
workplace by encouraging employees to have walking
meetings (taking the stairs is an added bonus). The worksite is an important setting for health protection, health promotion and disease prevention programs. On average, Americans working full-time spend more than one-third of their day, five days per week, at the worksite (CDC, Workplace Health Promotion May 13, 2016). While employers have a responsibility to provide a safe and hazard-free worksite, they also have abundant opportunities to promote individual health and foster a healthy work environment for more than 159 million workers in the United States (Accessed US Bureau of Labor Statistics April 12, 2016).
Worksite wellness interventions may be comprised of health education classes, subsidized use of fitness facilities, policies that promote healthy behavior and any other systems, policies or environmental supports that positively affect the health of employees. The WorkWell Missouri initiative aims to encourage and support worksites in implementing successful evidence-based interventions statewide. The objective of this initiative for MU Extension faculty is to help employers create environmental changes and worksite policies that make it easy for employees to initiate and follow through with voluntary health behavior changes related to nutrition and physical activity.
Employer benefits
The return-on-investment for establishing wellness programs in the worksite can be significant. Worksite wellness programs can help lower employers' direct costs, such as health care expenditure and worker's compensation claims. They can also positively impact many indirect costs, such as absenteeism and productivity. Find out more about cost savings by visiting the Centers for Disease Control and Prevention's (CDC) Workplace Health Promotion website.
Community benefits
Worksite wellness extends beyond the walls of the worksite. Families and communities also benefit from health behavior changes, modeled by employees, which reduce the risk of disease and injury. Worksite wellness programs are designed to link employees to surrounding community supports that encourage healthy behaviors and safety of all employees and their families.
This initiative is a collaborative effort by Missouri Council for Activity and Nutrition (MOCAN) and Missouri Department of Health and Senior Services (DHSS).