WorkWell Missouri Toolkit
Editor's note
The following abstract describes a publication available for purchase or download. This item will be available for purchase soon.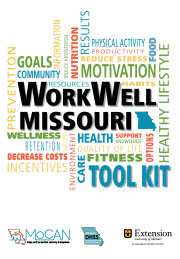 The worksite is an important venue to address nutrition and physical activity issues. The WorkWell Missouri Toolkit was developed to assist businesses in starting, adding to or maintaining a wellness program for their staff. Unlike other resource kits, the focus is on reducing the risk factors for chronic diseases: poor nutrition, inactivity, stress and tobacco use. This is a step-by-step guide for employers to use in assessing their worksite, identifying what types of programs to implement, implementing wellness programming and determining effectiveness.
The new Accessibility Guide addendum has now been added to this toolkit.
To learn more, visit the Worksite Wellness program.
Topics
Nutrition
Physical activity
Worksite wellness
Wellness program
Health care
Wellness components
Health risk assessment
Mental health
Tobacco cessation
Disability accommodations
Pages
Supplemental Materials