Resources for Your Flooded Home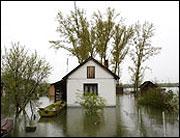 Editor's note
The following abstract describes a publication that is intended for print distribution or as a downloadable PDF. Please see links to the PDF file and ordering information on this page.
Cleaning up after a flood takes special care. Families returning to their flooded homes should exercise caution before and during the cleanup process. To help you get your life and home back to normal, download this PDF.
Contents
Steps toward cleanup
Structural condition
Electrical systems
Food and water sanitation
Cleaning and disinfecting
Household appliances
Mildew prevention
Removing mildew from household articles
Wall restoration
Floor coverings
Furniture
Information and referrals
Documenting losses and claims
Filing for insurance
Credit and other sources of relief
Federal disaster assistance
Contracting for repairs and rebuilding
Buyer beware
Children need special attention
Reentering your flooded home
Cleaning and repairing flooded basements
Salvaging water-damaged belongings
Avoiding mold hazards in your flooded home
Reducing bacteria in clothing and textiles
Topics
Flood
Cleaning
Flood-damaged homes
Restoration
Financial recovery
Risk management
Pages