Counties Map
East Central MO
Northeast MO
Northwest MO
Southeast MO
Southwest MO
Urban East MO
Urban West MO
West Central MO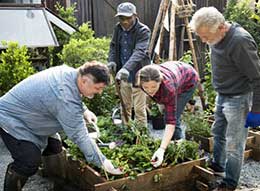 In-depth horticulture training for Missourians who wish to spread their knowledge of gardening.
Follow Taney County

Facebook
Master Gardeners
Master Gardeners of the Ozarks
Master Gardeners of the Ozarks is based in the Stone and Taney County area with close to 100 active residents who participate. Master Gardeners are trained by University of Missouri Extension to provide research-based gardening information and volunteer in their communities.
Check out all the information that is available to all gardeners on the Master Gardeners of the Ozarks website.
Use Tab key to loop through the section below. Press Enter or Space to enter content for each tab button. Press Esc key to exit and to go to the next section at any time.