Counties Map
East Central MO
Northeast MO
Northwest MO
Southeast MO
Southwest MO
Urban East MO
Urban West MO
West Central MO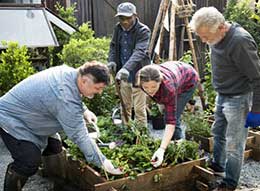 In-depth horticulture training for Missourians who wish to spread their knowledge of gardening.
Master Gardeners
Poplar Bluff Master Gardener meetings
The Poplar Bluff Master Gardeners meet regularly at 6 p.m. on the first Tuesday of each month at the University of Missouri Extension Center located at 614 Lindsay Avenue on the third floor. This group of active volunteers is composed of Master Gardeners from Butler, Carter, Stoddard, Ripley and Wayne counties. Please call the Butler County University of Missouri Extension center to confirm the location for the meeting each month at 573-686-8064. All are welcome to attend monthly meetings, which include informative gardening presentations. Invite friends and interested gardeners to come along.
Butler County Fair
The Master Gardeners help take entries for exhibits displayed during the Butler County Fair. During the event, Master Gardener volunteers watch to ensure the exhibits and entries are safe and answer questions of the exhibit visitors.
2018 elected officers
President — Rhonda Meloy
President-elect — Sheri Farmer
Secretary — Rebecca Tindall
Treasurer — Bud Letassey
Past President — Jerry Brehmer
Use Tab key to loop through the section below. Press Enter or Space to enter content for each tab button. Press Esc key to exit and to go to the next section at any time.