Counties Map
East Central MO
Northeast MO
Northwest MO
Southeast MO
Southwest MO
Urban East MO
Urban West MO
West Central MO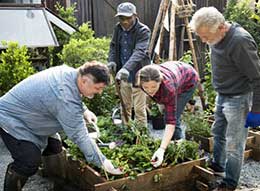 In-depth horticulture training for Missourians who wish to spread their knowledge of gardening.
Follow Northwest Missouri Master Gardeners

Facebook
Master Gardeners
NW MO Master Gardeners meet the third Tuesday of every month at 6:30 p.m. at the Buchanan County Extension Center, 4125 Mitchell Avenue, St. Joseph.
Officers
Barbara Bramblett, President
Dee Musser, Vice President
Kris Compton, Recording Secretary
David Laderoute, Treasurer
Bea Dobyan, Corresponding Secretary
Larry Werthmuller, Historian
Master Gardener classes
Master Gardener training classes are held each spring. The classes are held from 6 p.m. - 9 p.m. on Thursday evening with approximately 11-12 sessions. The current cost for Master Gardener training is $110 per person, or $195 per couple. Master Gardeners are adults of all ages who love gardening and who have some previous gardening experience. They are members of the local community who are interested in lawns, trees, shrubs, flowers, gardens, and the environment. If you are interested in becoming a Master Gardener in the future, contact Lindsay at Buchanan County Extension office, 816-279-1691.
Use Tab key to loop through the section below. Press Enter or Space to enter content for each tab button. Press Esc key to exit and to go to the next section at any time.