Counties Map
East Central MO
Northeast MO
Northwest MO
Southeast MO
Southwest MO
Urban East MO
Urban West MO
West Central MO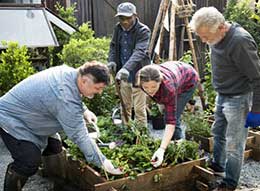 In-depth horticulture training for Missourians who wish to spread their knowledge of gardening.
Follow Northwest Missouri Master Gardeners

Facebook
Master Gardeners
The Northwest Missouri Master Gardeners meet the third Tuesday of the month. Meeting locations and format have been fluid since Covid-19; please check with the Buchanan County Extension office for the latest meeting information, 816-279-1691.
2022 Officers
Dee Musser, President
Kris Compton, Vice President
Brenda Cazel, Secretary
Gene Skoch, Treasurer
Amanda Lindquist, At Large
Karen Lyman, Corresponding Secretary
Larry Werthmuller, Historian
Extension Master Gardener Training
Master Gardeners are adults of all ages who love gardening and are interested in lawns, trees, shrubs, flowers, gardens and the environment. The Northwest Missouri Master Gardeners are known locally for their annual plant sale, their yearly donation of nearly a ton of produce to local food banks, and their annual Tomato Fest! highlighting the more than 100 varieties of tomatoes grown on site. That is just the beginning of what this group is doing in and around St. Joseph.
If you are interested in becoming a Master Gardener, contact the Buchanan County Extension office, 816-279-1691.
Use Tab key to loop through the section below. Press Enter or Space to enter content for each tab button. Press Esc key to exit and to go to the next section at any time.