Growing Chinese Chestnuts in Missouri
Editor's note
This page currently contains only the introductory section of this guide. For the entire text, please download the PDF.
Chinese chestnut (Castanea mollissima) is an emerging tree nut crop for Missouri and throughout the eastern half of the United States. Chestnut cultivation for nut production in the Midwest and eastern U.S. is accelerating, with the number of farms increasing 57% between 2012 and 2017, and more than 600 orchards reaching bearing age (USDA, 2018).
This guide explains the basics of establishing and managing a Chinese chestnut orchard. Topics include site and water requirements, updated cultivar selections, methods for establishing orchards, updated fertilization information, harvesting and storage information. New sections include highlights from the Center's nationwide chestnut market analysis, a listing of value-added products that can be made with chestnuts and a list of retail nurseries offering recommended cultivars.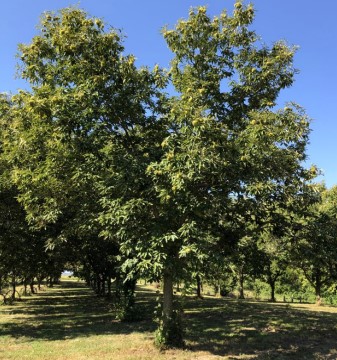 Chinese chestnut is a medium-sized tree with spreading habit and and is covered with burs filled with nuts stretching from September into October in Missouri.
The Chinese chestnut tree is a spreading, medium-sized tree with glossy dark leaves bearing large crops of nutritious nuts. Nuts are borne inside spiny burs that split open when nuts are ripe. Each bur contains one to three shiny, dark-brown nuts. The nut shells are "scored" then microwaved, roasted or boiled to help remove the leathery shell and papery seed coat, revealing a creamy or golden-colored nut meat. Chestnuts are a healthy, low-fat, gluten-free food ingredient that can be incorporated into a wide range of dishes – from soups to poultry stuffing, pancakes, muffins and pastries (using chestnut flour, see "Why Chestnuts" guide). Historically, demand for chestnuts in the United States has been highest in ethnic markets (European and Asian, for example) but as Americans search for novel and healthy food products, chestnuts are becoming more widely accepted.
Chestnut species
Three species of chestnut provide the basis for world-wide chestnut production
Chinese chestnut (Castanea mollissima)
European chestnut (C. sativa)
Japanese chestnut (C. crenata).
Chinese chestnuts are a medium-sized (40 ft.) tree, often multi-branched and wide spreading with good cold hardiness (-20 °F), and adequate tolerance to chestnut blight and phytophthora root rot. Of the three species, Chinese chestnut is best adapted for Missouri and the surrounding states.
Topics
Seedling orchard selection
Tree transplanting
Pest and disease management
Chestnut harvesting
Missouri Chestnut Roast
Markets
Pages