Wesley Tucker named first recipient of new Brown Professional Development Award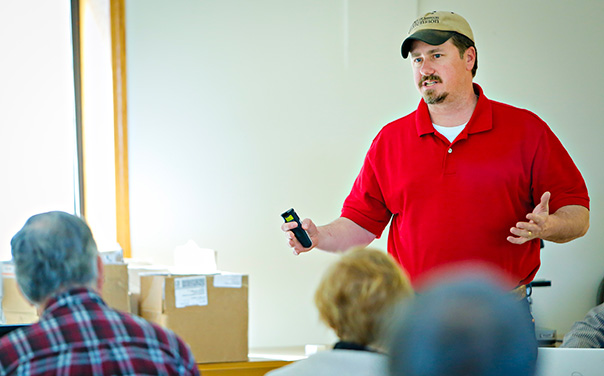 Farm families count Wesley Tucker among Missouri's best resources for help with intergenerational farm transfer and succession issues. Tucker, a University of Missouri Extension field specialist in agriculture business and policy, also is recognized nationally as an expert on the economics of forage livestock systems.
For these and many other notable contributions to Missouri agriculture and business, Tucker received the Thomas and Mildred Brown Professional Development Award this fall. He is the first recipient of this newly established award that provides up to $1,000 to MU Extension faculty and staff who have demonstrated excellence and commitment to professional growth. The award supports their continuing development of knowledge and skills through additional higher education, workshops and conferences and related expenses.
"I'm extremely honored. MU Extension is full of great educators; that I was chosen is humbling," said Tucker, who has been with MU Extension for 20 years. "I have always felt professional development is essential to our success. The challenges and situations our clients face are constantly changing. Therefore, we must be constantly developing and refining our skill sets."
The professional development award is part of the Thomas and Mildred Brown Endowment Fund established by the Brown family in honor of Thomas (Tom) Brown who passed away in December 2020. Brown, who started his 46-year career in MU Extension as an assistant county agent in Ray County in 1949, went on to become director and associate dean of extension, with College of Agriculture (now named the College of Agriculture, Food and Natural Resources) in 1979.
"He so believed in the research of the university and the power that it had to improve the lives of people across the state, people in all different communities," Thomas Brown's daughter Barbara Casady said. "He was in every county, he knew people across the state, and he worked with a great team of farm management specialists and home economists and 4-H agents and specialists throughout the state to make huge differences in people's lives."
Tucker himself sustains that belief in his own work by bringing knowledge and resources from the University of Missouri to Missourians across the state. Specialists across the state also use Tucker's curriculum in the economic sections of Missouri Grazing Schools. As state co-coordinator for Annie's Project, he also helps provide essential education and training to strengthen women's roles in agriculture and farming. In 2020, he became a business counselor with the Missouri Small Business Development Center for agriculture, food and forestry.
The Brown family is deeply invested in education and personal and professional development and wants to recognize those in extension who put effort into lifelong learning. "We often don't get a pat on the back for our jobs that tells us that what we've done is being noticed by others or how important it is," said Glenn Brown, one of Thomas Brown's sons.
The Thomas and Mildred Brown Professional Development Award celebrates the dedication of those who strive to improve themselves to improve the lives of others. This mission and legacy is supported by donations made to the Brown Endowment of the University of Missouri.
For more information about the fund, please contact MU Extension Advancement at 573-884-8570.
Giving Tuesday
Your support this #GivingTuesday will help faculty like Tucker continue to serve Missourians.
Go back
Let us help you give to support MU Extension