Where gypsy moth has been found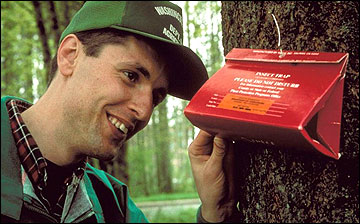 Every year, more than 6,000 gypsy moth traps are set out statewide in May and June and monitored in July and August. Agencies providing personnel and resources to conduct the survey are the Missouri Department of Conservation, the Missouri Department of Agriculture (the lead agency), USDA APHIS, USDA Forest Service, U.S. Department of Defense and Missouri National Guard. (Photo by USDA APHIS PPG Archives, bugwood.org.)
Each year, several moths are found that have been accidentally brought into Missouri from infested states. Locations where gypsy moths were caught in the previous year are trapped at a greater intensity to determine if actual populations are present.
The 2013 Missouri Gypsy Moth Survey captured five moths in four counties. That total is a typical amount for Missouri.
Fortunately, gypsy moths have not yet become established in Missouri.